What is transportation planning? The goals it can achieve in logistics
Faster. Smarter. Safer. These are the key focus areas in transportation planning. The first step is to develop a transportation strategy that has well-defined goals and objectives to implement a plan that meets long-term benefits. This will help the business grow by evaluating every aspect of its business and improving customer satisfaction. The global logistics industry is recovering and is projected to reach $14.66 billion by 2027. The use of a cloud-based transport management system will be crucial for ensuring sustainable deliveries and improving fleet performance. Transportation planning should be done keeping in mind the current economic realities to help create a viable solution that meets the logistics and supply chain requirements.
What is the main purpose of transportation planning?
Transportation planning is required for any logistics or supply chain business to ensure faster, safer, convenient, economical, and sustainable movement of goods. It will help predict future demands and help businesses meet customers' demands without any hassle. Having a robust transportation management solution in place is crucial as it helps enhance customer experience and keep operations managers reported on every minute detail about its logistics operations.
Road transportation can be slow and costly as it depends on multiple factors like driving speed, road conditions, etc. Transportation planning using a cloud-based transport management system will help businesses understand the demographic characteristics of their customers and plan deliveries accordingly. Whether it be the delivery of goods between cities, districts, or towns, route planning, and optimization will be crucial to ensure timely deliveries.
What are the major steps in transportation planning?
As the world modernizes, it's crucial to improve routes that are used to transport goods. The route planning and optimization should be covered by the cloud-based transport management system to ensure the best fleet efficiency. So how does a cloud-based fleet management system help deal with transportation planning?
-Step 1: Once installed, it will help the operations managers to map the best routes that can be used to get the deliveries completed as per schedule. The cloud fleet management system uses AI and ML to study the data, analyze the current needs, and plan for further order surge to ensure a seamless delivery process.
-Step 2: Once the training is completed, the cloud-based transport management system will calculate the best routes based on the number of orders, traffic considerations, etc.
-Step 3: The cloud-based transport management system will provide a complete overview of the orders delivered and milestones completed. This data will help operations managers to understand their transportation planning better and get the best out of the fleet.
What goals can be achieved using a cloud-based transport management system?
Freight Management: The use of a cloud-based transport management system will help improve fleet management whether you want intermodal or intramodal transportation of goods.
Improved Driver Safety: As driver details and driving behavior will be continuously monitored, this will ensure the best practices are adhered to while getting the deliveries completed on time.
Improve System Reliability: As manual processes are eliminated and automation is used for transportation planning, you can be assured of improving the overall reliability of logistics and supply chain operations.
Sustainable Transportation: Transportation planning will help find the most efficient routes to get the deliveries completed in a hassle-free way. This will ensure the business adheres to the sustainability protocols put in place by the government.
Multimodal Connectivity: A cloud-based transport management system will help plan the interconnectivity of numerous transportation models used; whether it be roadways, airways, or waterways.
Custom Reports and Analytics: The use of technology for transportation planning will ensure businesses get detailed reports to address existing problems and find the best solution to get efficient use of the fleet.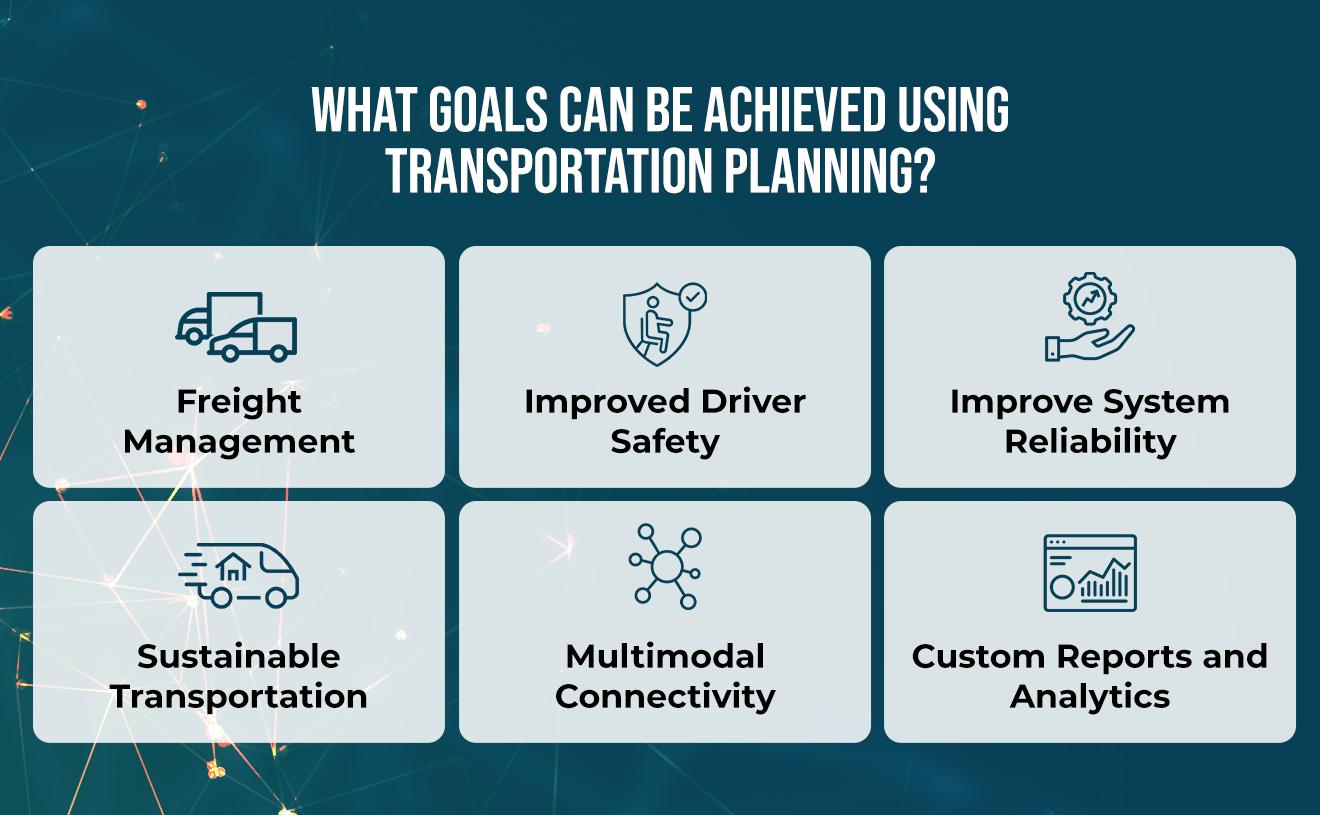 Transportation planning using a cloud-based transport management system will help make an informed decision based on the data visualized. This will help streamline the logistics operations and offer a balanced model that factors in environmental and economic development. LogiNext offers a top-rated cloud-based transport management system that can help deal with issues with transportation planning. Using AI and ML helps crack the best and most sustainable routes to help with cost-efficient deliveries. Click on the red button below and connect with our expert to get help with complete visibility of fleet mobility, driver safety, sustainability, fleet maintenance, and marketplace integrations.
21