What's Fleet Management Software and its Benefits in Logistics and Supply Chain?
No matter what industry you belong to, as fleet operations grow, manual operations that worked before start failing. There are multiple fleet management software solutions that are available in the market today. However, the selection of the right fleet management software is crucial to managing assets from acquisition and maintenance to disposal. A fleet management system helps a business keep track of fleet operations in a centralized platform. Key features tracked include routing direction, fuel level, engine temperature, driving speed, geographic location, etc.
Key areas fleet management software helps in logistics and supply chain management
Manage Parts Spent- Without the ability to track or visualize, companies usually end up paying much more than should be ideally spent. Fleet management software helps you identify cost-saving opportunities that help optimize the storage space and carrying costs. It additionally will help with the segregation of the items based on the vehicle it needs to be shipped in.

Improves Fleet Productivity- The inability to get the deliveries completed within a time frame leads to an increase in wait times. Fleet management software can help assign orders based on the driver's skill set, which will ensure the right person is associated with order completion. Since managers can now track fleet productivity, they can ensure best steps are taken to improve fleet productivity.

Data Points- With help of live data points, managers can now take decisions based on facts. Having a real-time view of operations helps managers with accurate reports for vehicle location, maintenance, fuel trends, etc. A fleet management software will help keep up with market trends and provide key performance indicators for a 360 view of fleet operations.
Benefits of Fleet Management Software in logistics and supply chain:
Find the best routes- With help of route planning, the drivers get updated on the best routes that have been optimized to get the deliveries completed at the earliest. With details related to fuel consumption and real-time tracking available, the fleet's productivity is maximized.
Track deliveries- No longer will you have to rely on drivers to get informed about deliveries. Get real-time updates related to order deliveries, driver performance, and vehicle information on the analytics dashboard.
Improve fleet safety- As drivers' driving habits and behavior are constantly monitored, this helps the operations managers prevent damage to the vehicle and also improves driver safety.
Increase fleet lifespan- Since details like vehicle mileage, braking habits, timely servicing, etc., are measured, it helps keep vehicles working in optimal condition; improving the fleet's lifespan.
Alerts and notifications- As the fleet management software offers real-time updates related to fleet operations, managers no longer have to rely on drivers to offer feedback while acting on any discrepancies, thus ensuring maximum fleet efficiency.
Improve customer satisfaction- The customers no longer have to keep waiting for order details and will be alerted on each delivery stage of the delivery cycle, helping improve customer satisfaction for each order.
Reduce operational costs- With timely maintenance and servicing of the fleet, route optimization, fleet usage reports, etc., these parameters help the company decide on the total operational costs and where the budget can be allocated to make improvements in fleet operations and reduce operational downtime.
Data repository- Last, but most important use case for fleet management solutions is the ability to quickly compile reports to help streamline fleet operations. Get 24/7 access to reporting for anytime analytics and review.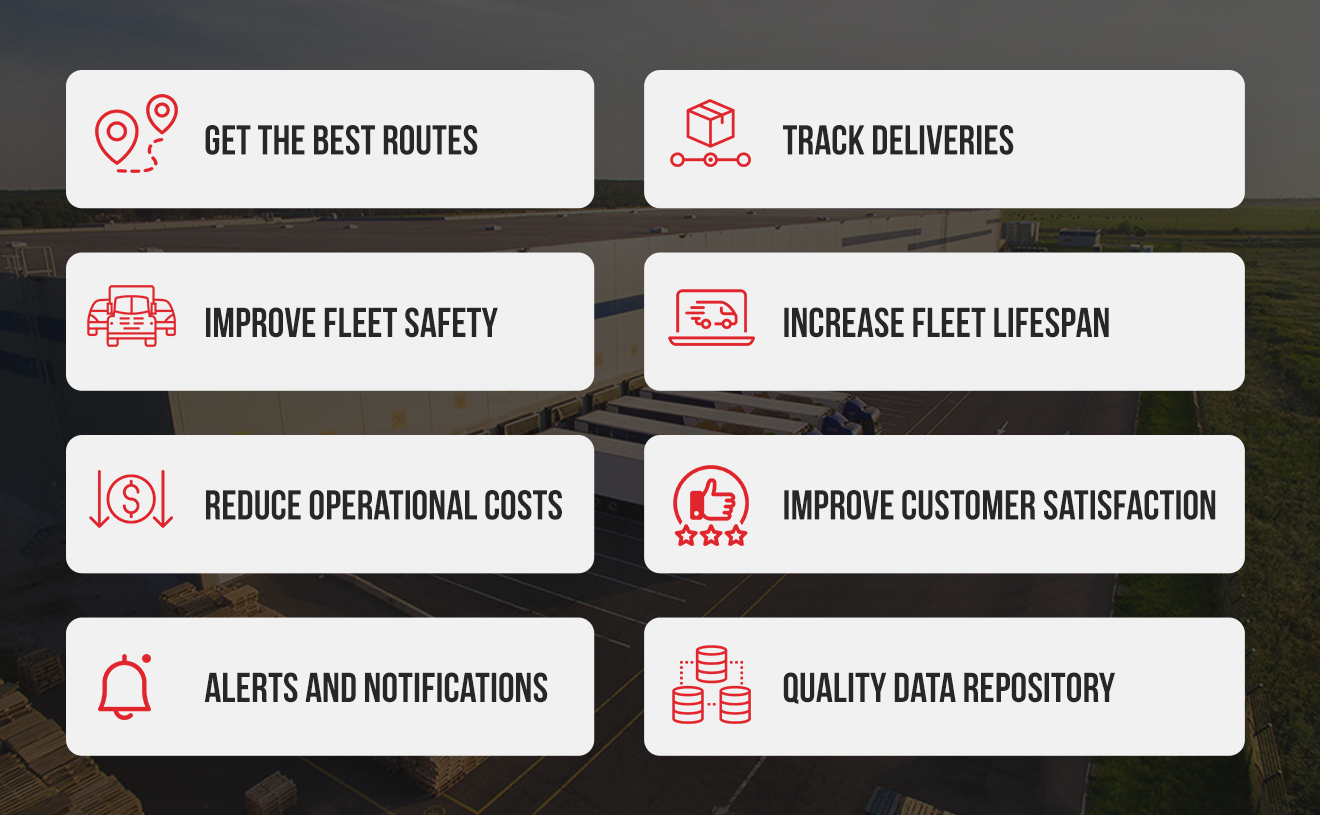 Manage your fleet operations at all levels and optimize them for parts and fleet spent using advanced data analytics to help your business grow towards a better and brighter future. Loginext offers all the mentioned features to help its customers meet the business requirements for the type and size of the fleet. Click on the red button below to connect with an expert.
19
1