The key to planning for a last-mile delivery solution. And what to expect?
Do you love a cold drink to quench your thirst during summer or a hot meal from a nearby quick-service restaurant? Well, it's all thanks to exceptionally handled last-mile delivery logistics. Last-mile delivery is complicated and a headache for many, which can be simplified using proper technology. Here, we would be answering the how's and why's of last-mile delivery logistics and offering the best last-mile delivery strategy for your delivery problems.
Some key last-mile delivery strategies for your business-
Having an advanced last-mile delivery solution holds the key to staying ahead of the competition.
Advanced route planning and optimization are a must-have for routing-related functionality.
Improving customer experience while improving operational efficiency.
Why is a last-mile delivery logistics solution needed for any business?
The last mile delivery is the key for any business to ensure great customer experience as it's the end leg of delivery. Getting the item delivered to the customer without any damage or leaks holds the key to maximum customer satisfaction. Whether you need a last-mile delivery solution for the transportation of goods less than a mile or hundreds of miles away, they will remain the most expensive process in the delivery leg.
In fact, last-mile delivery costs over 53% of the delivery cost. Yeah, let that sink in! Here are some of the reasons behind the high costs.
Labour Cost- When a business grows, so does the need to have a better workforce to offer a seamless operation. However, it's important to note that the workforce may not be fully utilized to get the task completed. This is where a last-mile delivery logistics solution can help with efficient fleet utilization, ensuring that the team is not overburdened with tasks but is able to get the orders fulfilled by practicing the best policies.
Order Returns- The major pain point in eCommerce deliveries. Not only is the customer upset about having to return the item, but the delivery team also has to place extra resources on the field. Order returns cause additional costs for fuel, additional man hours for getting orders returned to the warehouse, etc.
Quality Customer Service- The delivery standards have risen considerably, post-COVID-19. Companies are offering customers the best delivery experience, keeping the following pointers in mind-
73% of customer complaints are related to poor quality of delivery.
87% of customers would not return to a site after a poor service experience.
85% of customers want feedback to be available once delivery is completed.
35% of customers are willing to pay extra to get items delivered at the earliest.
Fuel Cost- With gas prices being the highest and continuing to soar, businesses should look forward to finding greener solutions. This is where sustainable solutions come into the foray. The last-mile delivery solution that helps beat traffic congestions (by taking optimized routes), is able to handle multiple deliveries on the same route by assigning it to a single driver, all of which help improve fleet efficiency and reduce spending on fuel.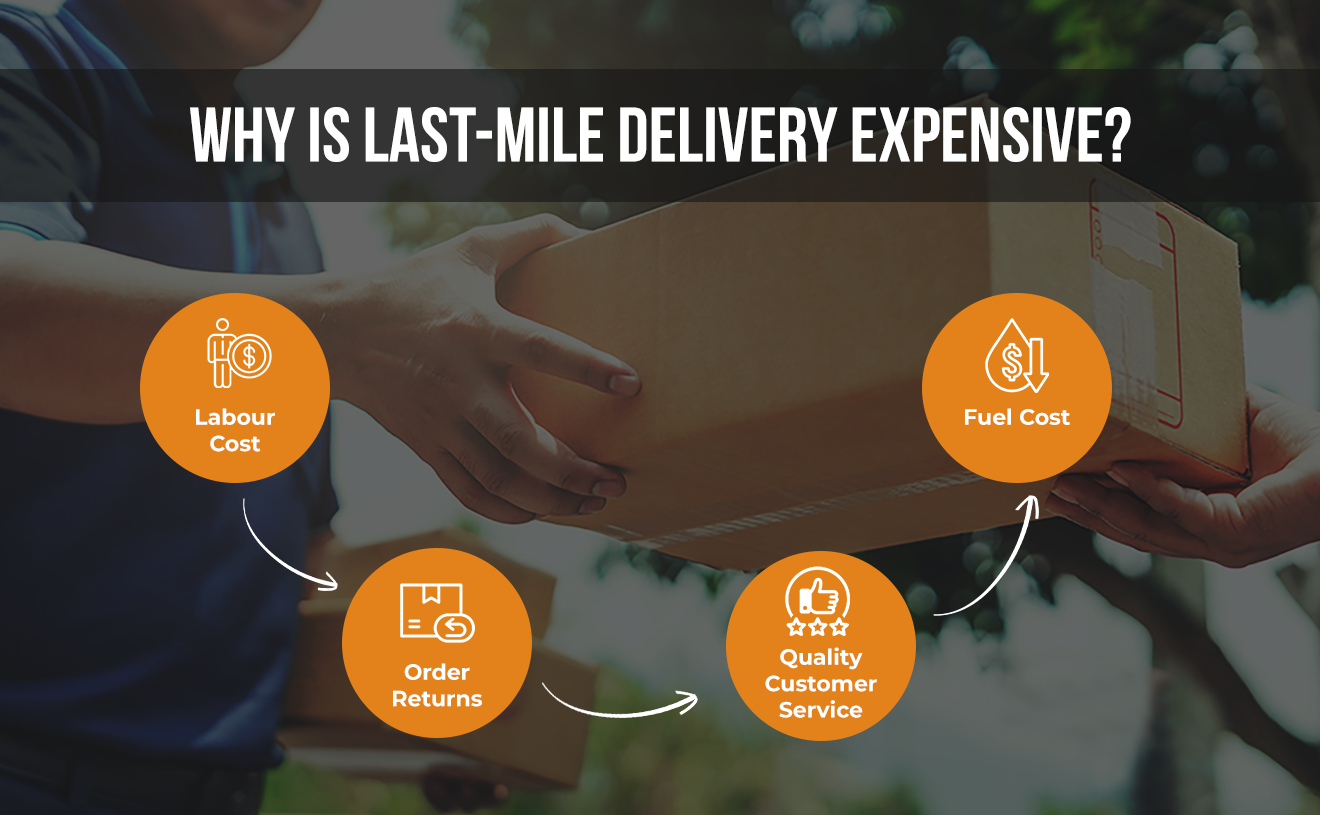 With these factors in mind, one can point out the necessity of having a quality last-mile delivery solution in place for maximum customer satisfaction.
What to expect from a last-mile delivery logistics solution?
Dynamic route planning- Route planning is important, but a dynamic routing algorithm can help plan and optimize routes in real time. This will help update ETA for orders that have already started their trips. As real-time rerouting and ETA calculation takes place, customers and operations managers can keep track of drivers. Additionally, this will factor in driver break time, delivery handover, and more.
Carrier integration- For any business to operate with maximum efficiency, its fleet will play a crucial role. This is where LogiNext's carrier integration can help businesses not have their own fleet as well as those dependent on 3rd party carriers to handle deliveries during peak hours, festive seasons, etc. With carrier integration, the fleet will be utilized in the most optimized manner.
Fleet optimization- Continuing the use of efficient fleet management, crate configurations can play a crucial role. Crates can be optimized by volume or size. Compartment configuration based on capacity, dimensions, and temperature can be optimized to get the logistics operations working at maximum efficiency.
Live Tracking- Customers are keen to get informed about any moment in their order status. Keeping this in mind, offering live tracking status to customers will ensure maximum customer satisfaction. LogiNext offers customers the opportunity to edit delivery timeslots (before the order leaves the store for delivery). With real-time tracking offered, customers don't have to stress about timings for order delivery.
Easy payments- As online payments and card payments are on the rise, companies now offer eCommerce companies e-PoS support. Businesses have started to offer ePoD for each order delivery. Functionalities such as photographs, e-sign, barcode or QR code scans, and cash on delivery are certain proof of delivery captured in the delivery associate's mobile app.
Easy returns- Even after advancements in technology, there may arise some confusion which leads to orders being returned. Sometimes the customer is just not satisfied with the product they ordered, or else they were not available at the given address. These factors put additional pressure on the supply chain operations. Reverse logistics is also a part of order fulfillment and should be handled in a seamless manner to avoid customer disappointment. Having a system than can allocate drivers based on proximity to the warehouse and customer address will be key to cracking order return problems.
Custom reports- As they say, data is the new king. A last-mile delivery solution that can compare your plans to the things which work out in the real world is a priority. The solution should fit in the order summary, trip summary, delivery associate analytics, payment stats, fleet performance, and customer feedback to validate supply chain operations.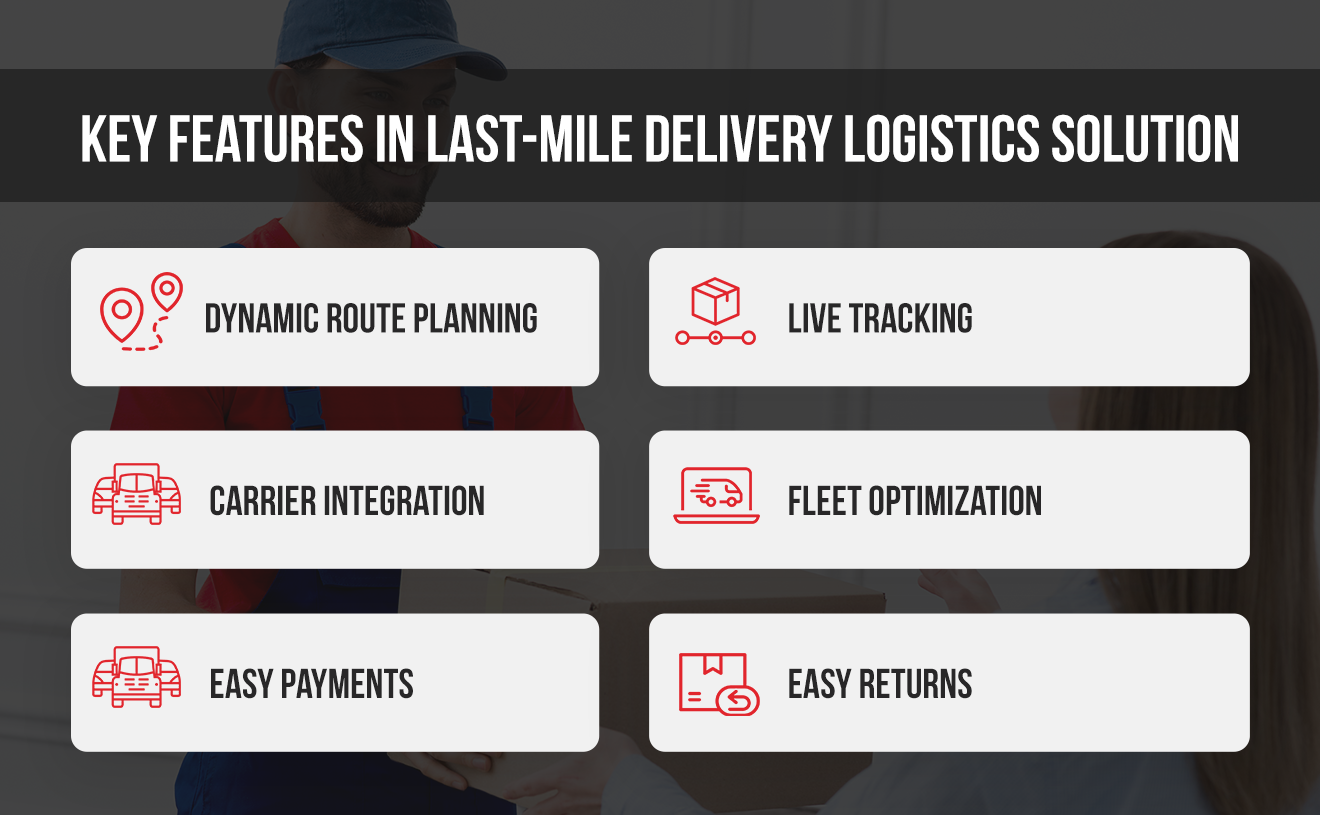 As the last-mile delivery strategies keep on updating to match customer demands, businesses should focus on getting the best last-mile delivery solution. This will help them to quickly adapt and make changes to adapt to any concerns. LogiNext is one of the top names that offer SAAS-based last-mile delivery solutions. Our features like advanced route optimization, fleet configurations, carrier integrations, and more can solve all your last-mile delivery problems. Click on the red button to schedule a demo tailored to your business needs!
21
1