Make Your Fleet Management System Automated, Not Complicated!
A fleet management system allows businesses to manage all the information associated with their in-house fleet and/ or third-party fleet. GPS fleet management software offers the best visibility into vehicle and asset utilization that help with better planning and streamlining fleet operations. As per the Fortune Business insights report, the global fleet management software market size is projected to grow at 18.3% CAGR, making it one of the most sought-after logistics solutions.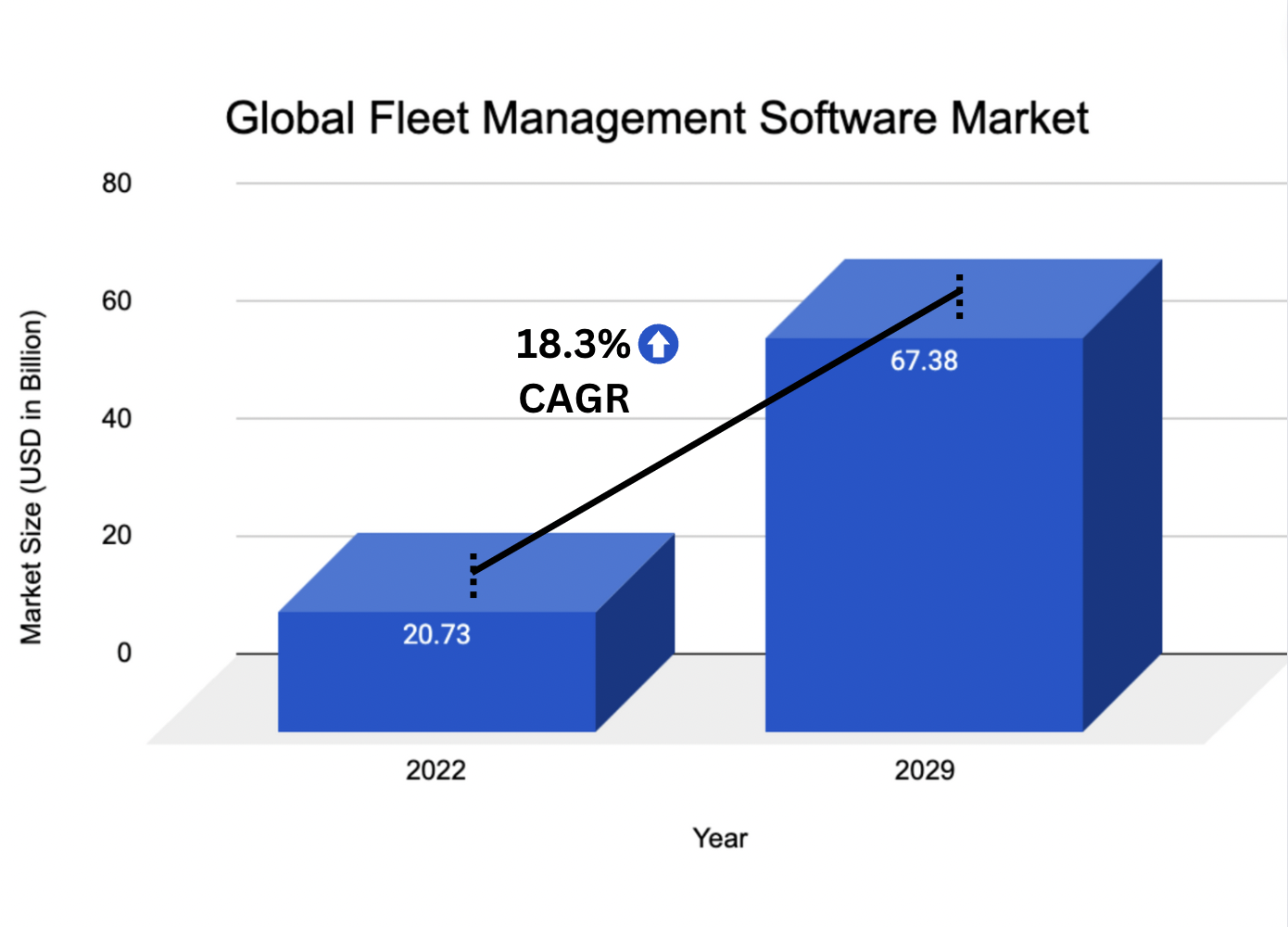 In the last decade, especially after the COVID-19 impact, businesses have started to understand the importance of driver management, compliance management, operational efficiency, and environmental impact. A fleet management system will offer remarkable growth in the long term to ensure an efficient and robust supply chain with end-to-end visibility, improved driver performance, and sustainable deliveries.
What is a Fleet Management System?
Any organization that utilizes its own fleet or third-party fleet to ensure timely deliveries would need to have an impeccable fleet management system. Fleet management software will help your business with an overall fleet performance which is directly related to improved fleet efficiency and reduced operational costs.
As the number of daily on-demand delivery services increases, fleet managers have their tasks handed out. A fleet manager will have to ensure the best vehicle fleet performance and cut down on fuel costs, improve driver performance, optimize route planning, and other factors to help improve fleet productivity.
As managing these performance metrics manually can be a tedious task, most companies have automated their day-to-day operations using the GPS fleet management system to ensure end-to-end visibility of their fleet operations.
Key Challenges a Fleet Management Software Can Resolve:
Digitizing Your Fleet Operations- Adopting digital techniques to ensure driver details and vehicle information is stored in the system helps to meet compliance measures. Details such as driver's licenses, PUC details, insurance, and additional information can be stored to help fleet managers stay updated about their fleet. The drivers driving history can be stored and the best drivers can be awarded incentives based on their performance.
Reduce Fuel Costs- As fuel prices keep rising, companies have to find ways to save fuel, which not only will help improve operational efficiency but also sustainable deliveries. Installation of a fleet management system will keep track of fluctuating fuel usage for which alerts can be generated to prevent fuel loss and train drivers better. Fleet managers can come up with ideas to improve their fleet's performance and support the environment.
Improve Driver Behavior- Your driver behavior (handling of the vehicle) is directly related to the maintenance of the vehicle. Rash driving, improve shifting of gears, and long idling times all contribute to increasing operational costs and efficiency.
Reduce Driver Shortage- The whole eCommerce boom has led to the industry facing driver shortages. As the number of trained drivers declines, it's important to train new drivers, which can be done using a GPS fleet management system that can monitor their moments. Companies are also focusing on the use of autonomous vehicles and electric vehicles to meet driver shortages.
When to Use Vehicle Fleet Tracking Software?
As the number of orders increases, businesses have to rely on their own fleet or 3PL providers to get the delivery completed. Businesses should keep track of the vehicles used to get the orders delivered. Here vehicle fleet tracking software will come to your aid for optimizing operations and improving overall efficiency. Businesses can make use of GPS trackers, temperature sensors, and other IoT devices to enhance fleet management.
Real-time tracking: Fleet trackers can be placed in vehicles to monitor real-time location. This helps operations managers have a bird-eye view of their fleet operations. It can help with the prediction of delays and make real-time updates to ensure seamless operations.
Route Optimization: When vehicle fleet tracking is combined with logistics automation, delivery routes are configured based on traffic patterns, road conditions, and other relevant data. Fleet management technology helps with enhanced fleet efficiency and productivity.
Proof of Delivery: Once the driver enters the customer's location, an alert can be sent of the order reaching the doorstep. Since the vehicle location is tracked, and the customer signature on delivery is collected, this ensures accurate and reliable information about the status of shipments.
Fleet Utilization: A vehicle fleet tracking software will offer complete visibility on fleet utilization. Businesses can keep track of the number of fleet utilization and optimize fleet routes to carry more orders. Fleet management technology helps optimize fleet utilization and reduce the distance traveled.
Maintenance and Repairs: Complete delivery on time without worrying about vehicle breaking using fleet tracking software. Alerts can be set to maintain regular vehicle servicing, mileage tracking, and record vehicle diagnostics.
The use of vehicle fleet tracking software helps optimize routes, maximize fleet utilization, vehicle tracking, and others to provide significant enhancement in operational efficiency.
GPS Trackers for Fleet Management Solution
GPS fleet management system makes use of GPS technology to track fleet activities of vehicles. The vehicle can be equipped with multiple sensors to optimize fleet management. The use of GPS trackers for fleet management helps offer accurate distance covered, fuel consumption, and analyze driver behavior.
The use of GPS fleet management technology helps us understand the following-
-Driver start and stop time.
-Real-time alerts and notifications
-Optimize routes based on vehicle position
-Plays a crucial role in safety and security management.
The adoption of GPS trackers for fleet management will help resolve visibility issues with real-time tracking of the fleet.
Exploring Fleet Management Technology
There are numerous fleet management technology available in the market to help gain real-time visibility in operations. More than 75% of fleet managers use fleet management technology to ensure seamless operations. Some of the emerging trends in feet management technology include:
Predictive Analytics: This technology combines historical data, real-time data, and advanced technologies to predict future events and trends. This helps the operations team to identify potential bottlenecks and optimize fleet reliability and uptime.
Artificial Intelligence and Machine Learning: The use of Artificial Intelligence and Machine Learning helps fleet managers analyze vast amounts of data. These help with the prediction of routes, improve driver behavior, reduce fuel consumption, and more.
Internet of Things: The use of connected devices and sensors which connect to the internet helps the team with real-time insights into fleet operation. Different sensors for tracking vehicle speed, temperature, door open/ close, fuel consumption, etc.
Advanced Telematics: Telematics technology integrates a GPS tracker for fleet management, vehicle tracking, and other wireless communication to help monitor data in real time. It offers great insights into driver behavior, vehicle performance, fuel consumption, and maintenance needs.
6 Benefits of Using a Fleet Management System:
LogiNext offers its clients a range of fleet management solutions to automate their fleet operations. Some of the key features that help improve fleet efficiency, productivity, profits, and customer experience include-
Fleet Planning- Automate and digitize your fleet operations to ensure the vehicles are maintained in mint condition and the best vehicle is routed for deliveries for the best customer delivery experience. This will ensure better cost management, as vehicle downtimes and maintenance costs will be reduced drastically, and improve brand image. It will also your help business forecast the number of vehicle needs that may arise on business expansion.
Vehicle Dispatch- Auto assignment of vehicles based on the type of route to be followed, assignment of daily run sheets, monitoring delivery operations, and ensuring electronic proof of delivery (epod) on orders delivered to the customer will streamline your delivery process. Tracking of orders with live tracking, route planning, optimization, ETA's, and customer communication using the driver app will be crucial to enhance the delivery experience.
Electronic Logging Device (ELD) Compliance- As a fleet manager, it's your responsibility to ensure your driver duty hours are being logged. Fleet management software will help digitize the log hours and have an accurate recording of the drive time entered into the system. This will help fleet managers focus on other fleet details than the manual entry of the driver log details.
Drive Safety- The trucking industry is reeling from driver shortages and companies should look to retain their driver. Driver safety plays a crucial role in your logistics operations as they ensure timely deliveries without facing driver shortages. Offering the drivers real-time delivery visibility and incentives for their driving behavior will improve driver and fleet managers' relationships and ensure drivers remain happy.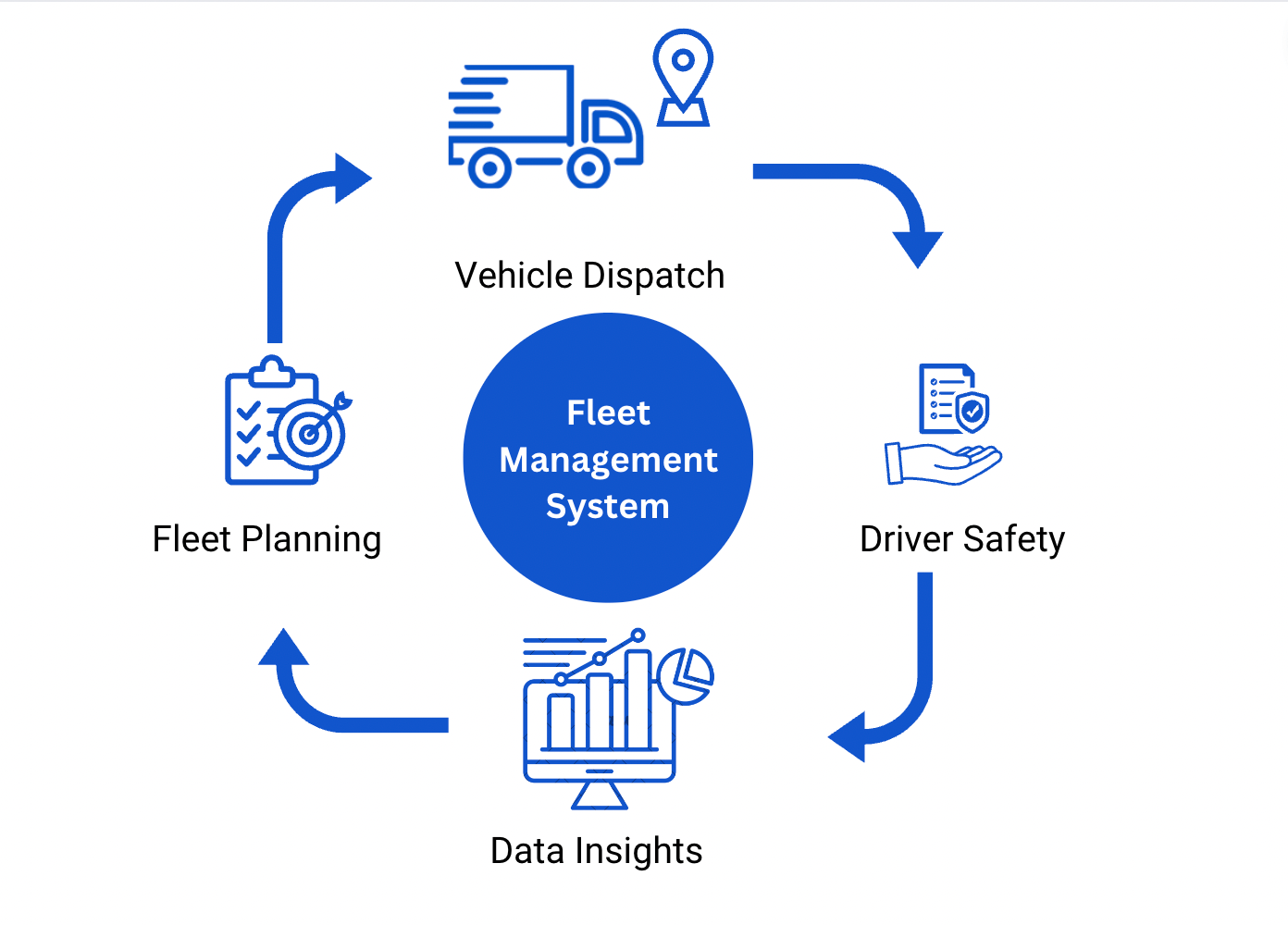 Driver Skill Sets- While managing day-to-day activities, there might be several orders that might require specific skill sets of delivery associates to ensure seamless deliveries. The auto-assignment and trip-planning engines will only assign orders corresponding to skill sets to fulfill an order that would be displayed on the delivery driver app. This will help drivers undertake multiple deliveries, leading to more deliveries per day and improving organizational profitability.
Performance Measurements With Data Insights- Get real-time information about your vehicle performance and utilization to help fleet cost optimization and get end-to-end visibility. A customizable dashboard will help with notifications and alerts of your fleet and driver performance for efficient handling of your operations. Digitization of fleet operations will help reduce discrepancies, improve KPI, and ensure the right order reaches the right customer.
The Future of Fleet Management Solution
In the future, changing industry trends and technology advancements significantly transform fleet management solutions. Some key areas of improvement include-
Move to Electric Vehicles (E.V.)- As businesses move towards finding greener solutions for sustainable transportation, fleets would soon be electrified. Fleet managers would add more E.V. (from trucks to bikes) to optimize delivery solutions.
Autonomous Vehicles- We already have seen major players test autonomous vehicles and soon they would be used to undertake delivery. This will help resolve driver shortage issues, improve safety, and ensure continuous operations.
Advanced Data Analytics- The use of AI will ensure the data collected from digitizing operations result in actionable insights. This enables proactive decision-making to improve efficiency, safety, and cost-effectiveness.
Enhanced Driver Safety- The future will see the use of Advanced Driver Assistance Systems (ADAS) and safety technologies. This would help prevent accidents, improve driver behavior, and enhance overall safety.
Smarter Infrastructure- The future will integrate smart city technologies and intelligent transportation systems. This would help fleet managers with real-time data on traffic, congestion patterns, resulting in seamless fleet management.
Embracing the new technologies will help businesses make a significant impact on fleet performance. Not only will fleet managers be able to enhance fleet performance and efficiency but also safety.
Make a Difference Using LogiNext!
LogiNext helps businesses improve their fleet operations performance using a fleet management system that helps them stay compliant and streamline their fleet operations. Our cloud based SAAS platform will analyze and present the fleet data with live dashboards and detailed reports. So, why wait any longer? Connect with LogiNext to meet all your fleet management demands.
36
2