Delivery Management Software for a Great Customer Experience
If you're a brand into home delivery, giving a great customer experience to your end user is at the top of your mind. Post the pandemic, online deliveries have sky rocketed and the importance of integrating the best delivery management software into your transportation management software has skyrocketed.
Transportation Management System for the modern age
Be it B2B fulfilment, route planning via advanced route optimization or last mile delivery tracking, a delivery management software is what you need to delight the end customer.
What is a great customer experience?
The user behaviour has shifted drastically with the advent of online shopping and quick commerce. Some of the options the end customer expects:
Same day or next day delivery
Precise ETA (expected time of arrival) for packages / last mile delivery
Flexibility to choose delivery time window
On time deliveries
Real time tracking
Vaccination status of delivery partner
A modern UI/UX (user interface and user experience)
How does a Delivery Management Software Achieve This
With these ever-growing demands and expectations, it comes down to a brand to ensure these on demand delivery requirements are met and at the same time, ensure delivery costs are reduced and operational efficiency is increased. The only solution to meet all these aims is a delivery management software like LogiNext Mile which has the following features:
Route Optimization and Auto Allocation of Orders
Deliver fast, deliver now: Advanced AI and ML route planning algorithms help you automatically plan the best routes for your delivery associates. 
Do what Google Maps can't: LogiNext's advanced route optimization algorithms helps you manage thousands of orders and multiple stops for the most efficient route plans.
Delivery Associate Management- Turn your delivery partners into entrepreneur heroes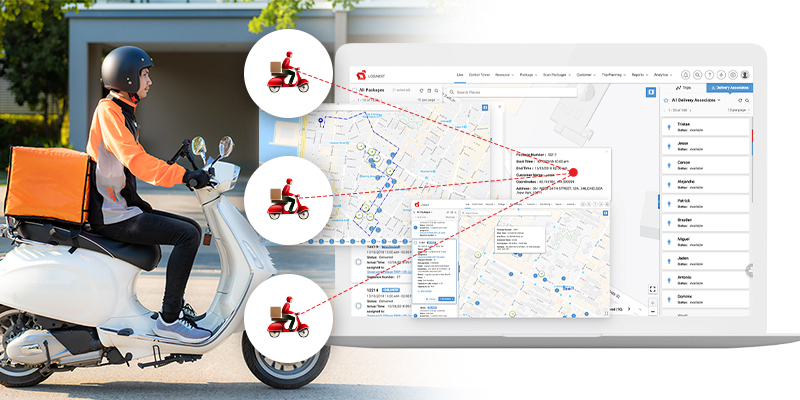 Gamified DA Experience: With LogiNext Analytics, have a detailed view of how delivery associates are performing and up your SLA compliance, every time! 
Hotspots and Delivery Incentives: With LogiNext features for reducing delivery costs, delivery partners turn into entrepreneurs and earn more for themselves.
A Sleek and Modern Customer Experience
Digital signs with ePOD: Electronic Proof of Delivery has become the new normal after the pandemic, integrate the latest ePOD system to ensure seamless digital sign processes.
Happy customers, happy you! We're laser-focused on the end customer and have built several tools and features with a modern UI to ensure happy end customers.
How to integrate a delivery management software?
Once you're convinced about the benefits of a fleet management software like LogiNext Mile, you may ask how to integrate this? Well, the modern SaaS (software as a service) platforms are plug & play solutions which can go live in a matter of minutes, literally!
Easy API and Webhook integration
The LogiNext Mile Delivery Management Software comes with hundreds of ready to use APIs (Application Programming Interface) and Webhooks which your system can talk to easily and get going. It doesn't take more than a couple of hours for your IT team to look into the integrations and have the system setup at your end.
Highly Secured because your data matters
LogiNext MILE transportation automation platform is compliant with the latest security standards like SOC 1,2,3, ISAE 3402, ISA 27018, among several others. Your data is very critical and secured with us. 200+ enterprise clients including Fortune 500 companies trust us with this.
A fleet management software for a wide range of industries
The LogiNext Mile Platform is used by clients in more than 50 countries in the following industries:
Courier, Express and Parcel (CEP and Postal Networks)
eCommerce and Retail
QSR Chains (quick service restaurants) and Fast Casual Restaurants
Transportation and 3PL/4PL (third party logistics and fourth party logistics)
About LogiNext: LogiNext is a global technology company that offers a SaaS Transportation Automation Platform for delivery management. The company helps brands across QSR, CEP, eCommerce & Retail and Transportation to digitize, optimize and automate deliveries. Growing at an average rate of 100% YoY, LogiNext is headquartered in New York and has 200+ enterprise clients in 50+ countries. The company is backed with $50 million across three rounds of private equity investments by Alibaba-funded companies, Tiger Global Management, and Steadview Capital and has regional offices in Dubai, Mumbai, Delhi, Kuala Lumpur, and Jakarta.
22