QSR chains are ditching third party aggregators for in-house alternatives

– By Gagan Jain, Solutions Expert at LogiNext 
The past two waves of Covid-19 have had a profound impact on everyone in the world. While some have suffered heath wise, others have suffered due to failing businesses and loss of livelihoods. The impact on the hospitality industry, in particular, has been severe. A major part of restaurant businesses comes from dine-in customers. However, with changing customer preferences, ordering food online has now become a way of life. That is why restaurants are now re-thinking their business models. Many quick service and fine dining restaurant owners are jumping ship on third-party aggregators. They are now establishing in-house delivery platforms. 
While this is helping them in the ongoing fight against the pandemic, could this be a feasible option in the long run?
Before probing into the discussion further, here is a quick snippet on how food aggregators actually work. 
How do third party food aggregators work?

Restaurants get themselves listed with third-party aggregators for a price. These aggregators provide a platform for the end customers to order food from these restaurants. They hire contract-based drivers to fulfill these deliveries using their owned fleet. Once the order is placed, they use their route planning software and delivery tracking systems to further manage the order. In turn, they earn money through the commission charged to the restaurants, delivery fees, or even both.
Lately, these food aggregators have begun dictating the terms of the business, making it difficult for restaurants to make profits. Let us review some of the key reasons why restaurants are moving away from aggregators.
Reasons why restaurants are moving away from third party apps

During the pandemic, it is already difficult for restaurants to turn profits. The partnerships with aggregators squeeze up the margins even further. Depending upon the kind of services they use, they end up paying a commission of 20% to 30% of the value to each order placed through the app.
Less Control over delivery management

In case there are any issues with the order or delivery processes, customers generally end up blaming the restaurant partners. By outsourcing these processes, restaurants risk losing control of their brand, from the time the food moves out of the kitchen to when it arrives at the customers. Issues with delivery time, accuracy, reliability, and food presentation could severely damage a brand's reputation. Delivery Management Software like LogiNext Mile are seeing an uptick in adoption.
Customer Experience and Direct Customer Relationships

By using third-party aggregators, restaurants lose the direct relationship with their customers. They lose on their regular, loyal customers, who are a lifeline for any food business. They even lose out on their customer data which could have been better used by them to grow and improve.
Here are some other reasons why restaurateurs are taking back control of their deliveries:

1) To avoid customers ordering on closed days (this happens quite a few times on aggregator platforms)

2) Menu changes are not timely reflected on aggregator platforms

3) Pause/Hold deliveries when needed

While aggregators have helped many restaurants outsource their fleet to save costs, many businesses have now started questioning these costs. For example, Giuseppe Badalamenti, the owner of New York's Chicago Pizza Boss, in 2020, posted his statement from Grubhub (a food aggregator) to give a sense of the cost breakdown. The statement showed that he took in $1,042.63 in 46 pre-paid orders, while only receiving $376.54 as a final payment.
So while aggregators provide a good customer base and appealing order volumes, paying them commissions is taking away from the revenues of dine-in restaurants. These restaurants are built considering customer visits in mind. Their expenses include ground staff, kitchen staff, bar setup, renting out space with seating arrangements, and more. 
Many businesses have started requesting their customers to either directly call them, or place orders on their in-house delivery platforms. For example, brands like Fig and Maple, Salt Water Café, Social, and Smoke House Deli are asking customers to directly order from them. This removes any redundant layer of interaction and allows restaurants to build a direct relationship with the customers. To aid this shift, they are even offering special discounts for people who order through their in-house platform.
Why a Delivery Management Software works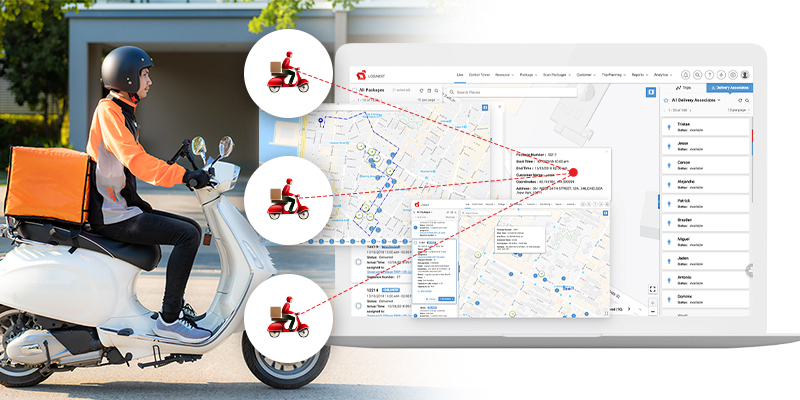 So, when a QSR chain  or a large restaurant wants to move towards having more visibility over their delivery management, a Route Optimization Software like LogiNext Mile is the best option. What it does is that it gives the operations manager complete visibility and tracking capabilities over their deliveries and in turn, improve customer experience by reducing delivery costs.
39