Proven Strategies For Businesses to Enhance Supply Chain Agility for 2023!
What's the first thing that comes to mind when you think of agility? Something in the terms of speed right? And when it comes to eCommerce, it is defined on the basis of how quickly a business can adjust to changing trends and customer expectations in terms of speed and delivery (without dropping the quality of service). A survey from the Hackett group clearly showcases that 45% of supply chain executives prioritize the improvement of their business supply chain agility to meet the challenges of the rising global supply chain complexities.
Having an agile supply chain is crucial as it helps the business react and adjust to delays and unforeseen events based on supply and demand across geographies. A robust supply chain will ensure maximum customer satisfaction, help the business reach new heights, and beat the competition. It additionally helps the business to operate in an efficient omnichannel distribution system and meet KPIs.
Supply chain agility can be differentiated as structural agility and operational agility. Structural agility deals with the ability of how the supply chain network can operate based on its capabilities. They help focus on volatility that can have an impact on medium-to-long-term plans. Operational agility focuses on decision-making on how resources should be scheduled and utilized for maximum efficiency. They help organizations react to volatility for short-term demand and supply.
How to improve supply chain agility?
Supply chain agility not only helps the business adapt quickly and effectively to the latest trends but also revert back to normalcy when being hit with disruptive events. Some of the main factors that help with an agile eCommerce supply chain include-
The use of technology for automating the supply chain.

Optimize the major pain points for efficient and sustainable fleet usage.

Get complete visibility into real-time operations.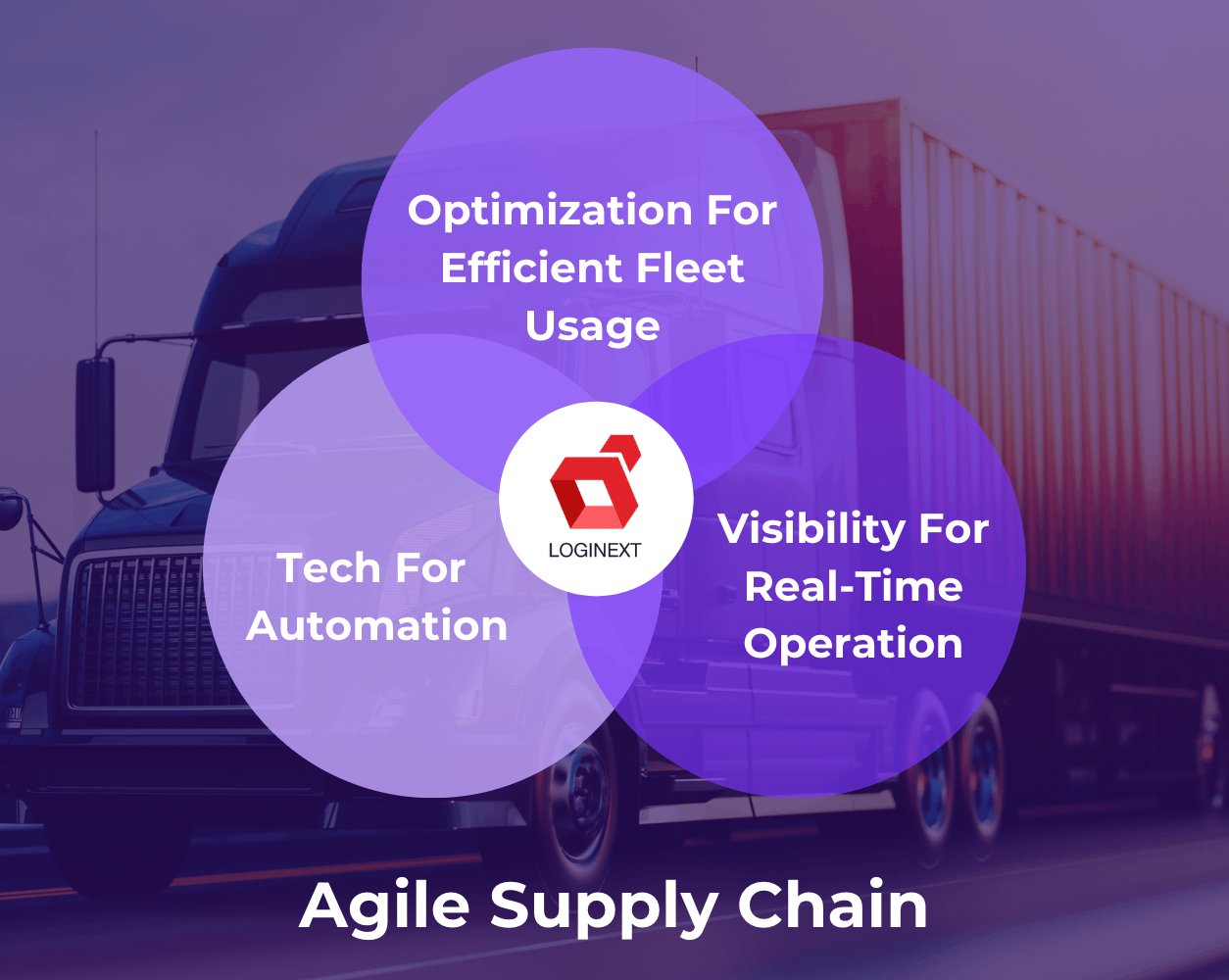 Key areas to improve eCommerce supply chain agility
Having the right technology and automation processes in place will help eCommerce businesses grow and avoid obstacles, ensuring exponential growth. Supply chain agility will play a crucial role in meeting customer expectations and optimizing resource use. Here are some key focus areas for supply chain agility in the eCommerce sector:
Matching Customer Demands:
Move over to next-day deliveries, customers now want their items received within the same day or within an hour! There are numerous supply chain experts that believe that 10-30 minute deliveries are the future in eCommerce. Hence, having an agile supply chain becomes more important than ever before. Businesses would be able to meet customer demand for fast turnaround, affordable shipping, and keeping the inventory stocked to meet fluctuations in order volumes.
Keep inventory filled across warehouses and dark stores.

Integration with logistics and automation technology

Partnering with local carriers to get items delivered at the earliest possible.
Streamlining Supply Chain:
An agile supply chain will lead to smarter, learner, and more efficient supply chain management. Streamlining the supply chain will lead to reduced human error, save operation and warehouse managers time in orders and save money in the long run. Delivery management software can help streamline operations and improve fleet productivity.
Reducing Supply Chain Cost:
One of the main factors to ensure a business remains competitive and sustainable is by optimizing its logistics costs. An agile supply chain will help optimize logistics costs by optimizing routes, inventory, and fleet management. Some of the key areas for optimizing logistics costs include-
Integration with a WMS

Automating fleet operations

A real-time dashboard that helps plug holes in daily operations.
Seamless Customer Experience:
In modern times customers expect fast and reliable order deliveries. To meet the expectations of on-demand deliveries, it's important to understand the demography and placement of warehouses to get orders fulfilled at the earliest possible. Supply chain agility will help with an impeccable distribution network and with the right solution like LogiNext can improve order delivery speed and accuracy.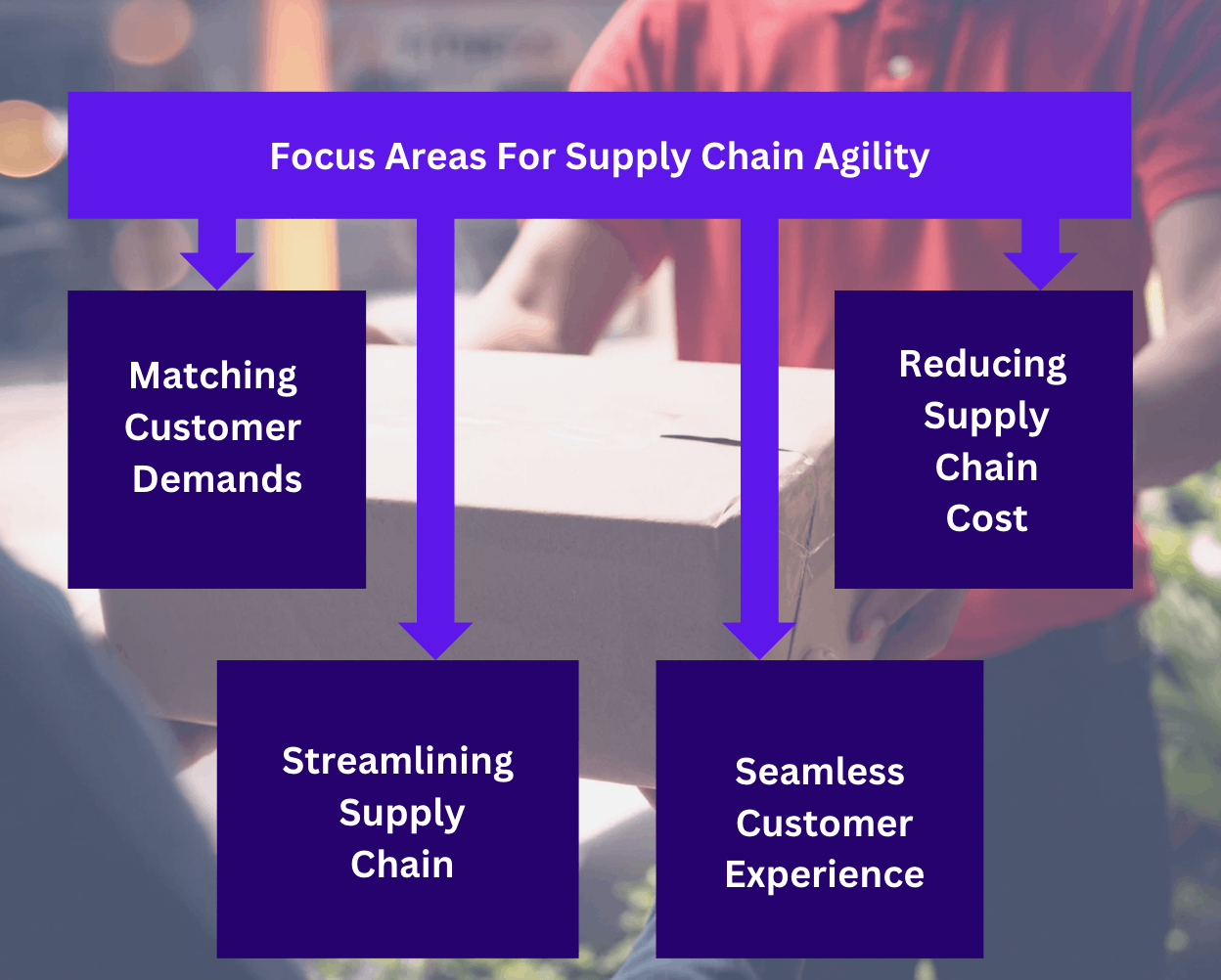 Technology is the key to supply chain agility:
LogiNext offers its customers the best agility in the supply chain with its modern delivery management system. It allows real-time supply chain visibility with insights into past data that will help with order fulfillment. It will help make informed decisions in an efficient manner to make proactive decisions based on historical data. By offering incremental improvements in your supply chain, one would be able to reduce logistical inefficiencies and save on overall logistics costs. LogiNext's configurable solutions help businesses with a flexible offering that is modified based on supply chain operations. By choosing LogiNext, you will have a robust logistics network that will save you time and money.

Click on the red button below to speak with an expert.

21