How to Handle last mile delivery? In House Fleet v/s Outsourced Fleet
Delivery management has become absolutely crucial for a brand to give a great last mile delivery experience. While tackling this situation, a million-dollar question every firm needs to ask before is whether a company should outsource deliveries or have an in-house fleet? What is the ideal mix? There are hundreds of logistics management parameters to be considered before actually coming to a conclusion on this one. The pandemic has accelerated last mile delivery, and every brand in retail or QSR or transportation has to face this question of what's the right mix when it comes to fleet management.
Transportation Automation Platforms like LogiNext MILE have gained much more importance in the current times. Consumer behavior has shifted drastically with same day deliveries becoming the norm in urban cities. Brands like McDonald's, Domino's, and IKEA, which are known for their seamless delivery experience, and one thing common in all of these 3 big players is that they try to maintain a zero negative feedback policy.
How to Manage a Fleet for effective last mile delivery?
In layman's terms, a fleet is the mode of transportation, be it trucks, motors, trains, cargo, forklifts, and trailers (complete glossary of logistics terms). Fleet managers are qualified personnel with an understanding of minimizing cost and maximizing profit when it comes to resource allocation. The responsibility of a fleet manager has increased with the advent of online shopping and the importance of last mile deliveries. To manage the fleet, we need a deep understanding of delivery management software and job scheduling applications.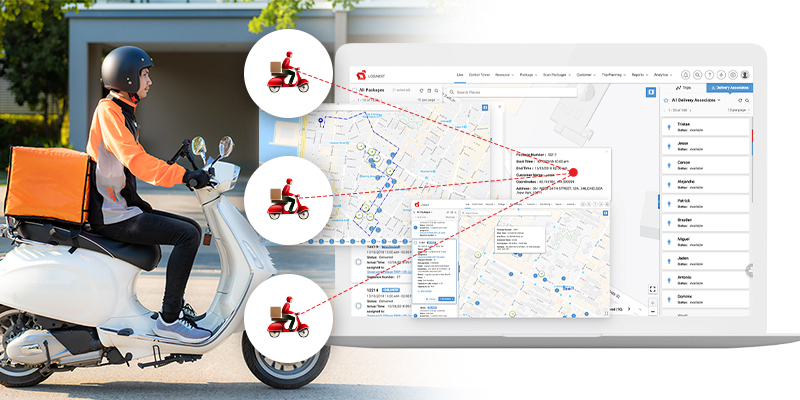 It is primarily advised to outsource non-core activities as this would help the firm focus more on the core activities. But in the current times post the pandemic, 'logistics management' cannot be a non-core activity for any brand.  But what are the pros and cons?
Pros of outsourcing:
If you're a QSR chain, you can focus just on food and leave everything else to third party
Less resource management
Cons of outsourcing:
The biggest con is the loss of connection between the customer and company. One loses complete control over the end customer experience which is very crucial for a brand.
High commission charges. 3rd part aggregators and logistics companies charge commissions in the range of 20-30% which can really pinch the balance sheet.
Though outsourcing is considered one of the efficient ways to manage fleets, it is still considered a short-term method. Many growing companies with a focus on the long term prefer in-house fleet management.
One of the biggest advantages of managing your own deliveries is that profits are not diverted elsewhere and are wholly retained by the business. Any system is not entirely sound, there are certain limitations, and these limitations shall be jotted down while working with logistics solutions and fleet tracking systems. To list down few disadvantages with in-house fleet management – Lack of experience could be the greatest fear when starting out new which can be overcome by choosing a trusted partner like LogiNext.
Hybrid Fleet Management
The pliability in last mile delivery, delivery route planning, vehicle tracking system, fleet tracking software, and location based services should be considered during the planning and designing phase of any chain or fleet management. To attain a sustainable solution and have a sound fleet management system, we've been working with brands to figure out the most optimum 'Hybrid Model'.
As the name suggests, hybrid is a combination of In-house delivery and outsourcing. This will depend on a lot of factors like:
Resource availability
Local regulations
Driver partner sentiment
The density of orders from different regions
Taking into account all of these factors, the LogiNext MILE platform has been able to automatically assign orders more than 90% of times and we're talking the scale of hundreds of thousands of orders every month.
LogiNext is recognized among the fastest-growing Saas companies, providing solutions for Fleet management and Logistics operation with the help of cloud-based technology. LogiNext has 200+ clients in 50+ countries using the platform. Some of the features of the Platform: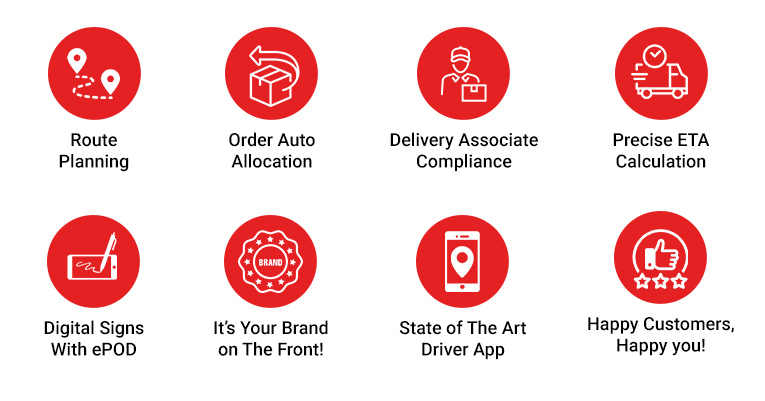 Route Planning: Advanced AI and ML route planning algorithms help you automatically plan the best routes for your delivery associates.
Order Auto Allocation: Set your parameters and let the LogiNext MILE platform automatically schedule the orders into trips with maximum efficiency.
Delivery Associate Compliance: With LogiNext Analytics, have a detailed view of how delivery associates are performing and up your SLA compliance, every time!
Precise ETA Calculation: Factoring in weather, traffic and other variables, let the dynamic LogiNext Platform communicate accurate and precise ETAs to end customers.
Digital signs with ePOD: Electronic Proof of Delivery has become the new normal after the pandemic, integrate the latest ePOD system to ensure seamless digital sign processes.
It's your brand on the front! While LogiNext MILE platform powers the backend technology and customer experience, all the branding and visibility is for your company.
State of the art driver app: The LogiNext Driver App for iOS and Android has all the latest features for complete ease of use to your delivery partners!
53