Case Study: Customer-Centric Live Logistics Optimization for Large Online Retailer
Let's begin with getting a deeper idea of what LogiNext stands for!
LogiNext's logistics optimization stands at the forefront of effective carrier management and last mile delivery optimization. It's industry leading and proprietary machine learning enabled algorithm makes it the most advanced delivery route planning software in its space.
How LogiNext Boosted Logistics Efficiency for the Client

The client was one of the largest online home goods retailer in North America with more than 60 million active online users, 10 million hosted products, and 20,000 suppliers.
Right from the point, a customer ordered furniture to the point they received it in perfect condition right in their rooms, LogiNext's logistics optimization software worked to make the entire process smooth and error-free.
The shipment was analyzed and automatically allocated to the best-suited driver or truck. Each driver/truck had their own skill-sets associated with them.
Consider a scenario where the shipment is a king-size bed with a mattress. The driver/handler must be an expert in loading and moving such items. They should be well-versed with delivering it in the house of the customer in the preferred room. If assembly is required, the handler or helper should be trained in such work (and that too, to do a remarkable job at it).
Such auto-allocation based on the shipment requirements is essential to create a great delivery experience for the customer.
Improving Delivery Experience Multifold
Suppose the customer has requested a specific time-slot for the delivery. LogiNext's software considered all parameters, including available carriers, their capacity, the truck type, live traffic analysis, and preferred time-slot of the customer to create an optimized delivery route for the truck/driver so that they could deliver all these items on time, and (overall) deliver more using the same available resources.
Advanced Route Planning and Quick Dispatch
Moreover, beyond this advanced planning and quick dispatch, live tracking of all trucks with instant notifications of all on-ground events (ranging from unplanned delay to successful deliveries) in a single dashboard gave the client the means to totally control their distribution in one go. This master-consolidation of all logistics movement was, hence, called the control tower.
End-to-End Visibility

Such end-to-end visibility cut down the reaction time to any and all instances on the ground giving the client the agility and responsiveness to give the best delivery experience to all their customers.
LogiNext's logistics optimization software took on all the 'big challenges' of client and comes through successful at the other end for the complete business landscape.
Great Delivery Experience
One of the major boosts that came through LogiNext's optimization was the creation of a great delivery experience for each customer. With on-time deliveries and live tracking of shipments coming in, the customer's expectations were not just properly managed but also exceeded.
Proper driver-shipment mapping ensured high-quality interactions with the customer, boosting their satisfaction.
Recommended Read: Top 3 Logistics Management Trends Taking Center Stage In 2019
A driver/handler with the right skills to deliver/assemble a specific shipment (like a bed) ensured that the customer stayed with the client for far longer, increasing the overall lifetime value with high repeat purchases and higher order values.
Getting Ahead with High Carrier Optimization at Lower Costs

Optimized logistics movement with LogiNext saved up to 18% of total logistics costs which were then turned back into benefits for the customers creating a more efficient and transparent eco-system.
Carrier Movement Optimization
The client could handle multiple carriers across all distribution zones from within a single dashboard. In developing countries and new markets, third-party carriers are a more viable option. However, the problem of effective control over their movement set up possible lapses in the end-service for the customers resulting in mismanaged shipments, delays, missed service level agreements (SLAs), and dissatisfied customers.
Control Tower
LogiNext delivery route planning and end-to-end visibility (control tower) ensured that the cost-effectiveness of carrier partners didn't hamper the logistics efficiency or delivery experience.
Recommended Read: How Cloud-Based Tech Is Changing The Fleet Management Landscape
The client could handle multiple carriers within a single system and optimize their movement for better performance (giving added cost-benefits).
Capacity Optimization
Thousands of shipments moved through hundreds of trucks for the client. LogiNext's software optimized the weight and volume capacity of each truck so that their capacity was properly and safely utilized. This cut down on under-utilization of capacity. This meant that lesser resources (trucks) were used to deliver the same shipments, saving costs (resource and time).
Auto-Allocation of Shipment
As pointed out earlier, auto-allocation of shipment as per the skill-set of the driver and the truck type ensured an enhanced delivery experience for the customer. It also greatly cut down on the loading/unloading and dispatch time required for deliveries, ensuring that the trucks were detained far less.
Auto-Pickup Allocation for Dead Run Optimization
Consider a situation wherein a customer requests a pickup (return). The system could automatically assign the pickup to a truck/driver with idle capacity and available schedule (time) that is closest to the customer's location. This helped serve the customer better (creating a great experience) and cut down on dead run costs, optimizing capacity better.
Lesser Distance Traveled
Finally, the advanced delivery route planning ensured that the trucks follow shorter distances optimized to avoid traffic and delays. This ensured timely delivery to more customers per day.
Such planning and delivery route planning also gave the added edge of predictability where the client could know exactly how many trucks its carriers needed for their shipments (using LogiNext's capacity optimization) so that they were never over or under-utilized.
High-End Delivery Route Planning Running on Machine Learning and Artificial Intelligence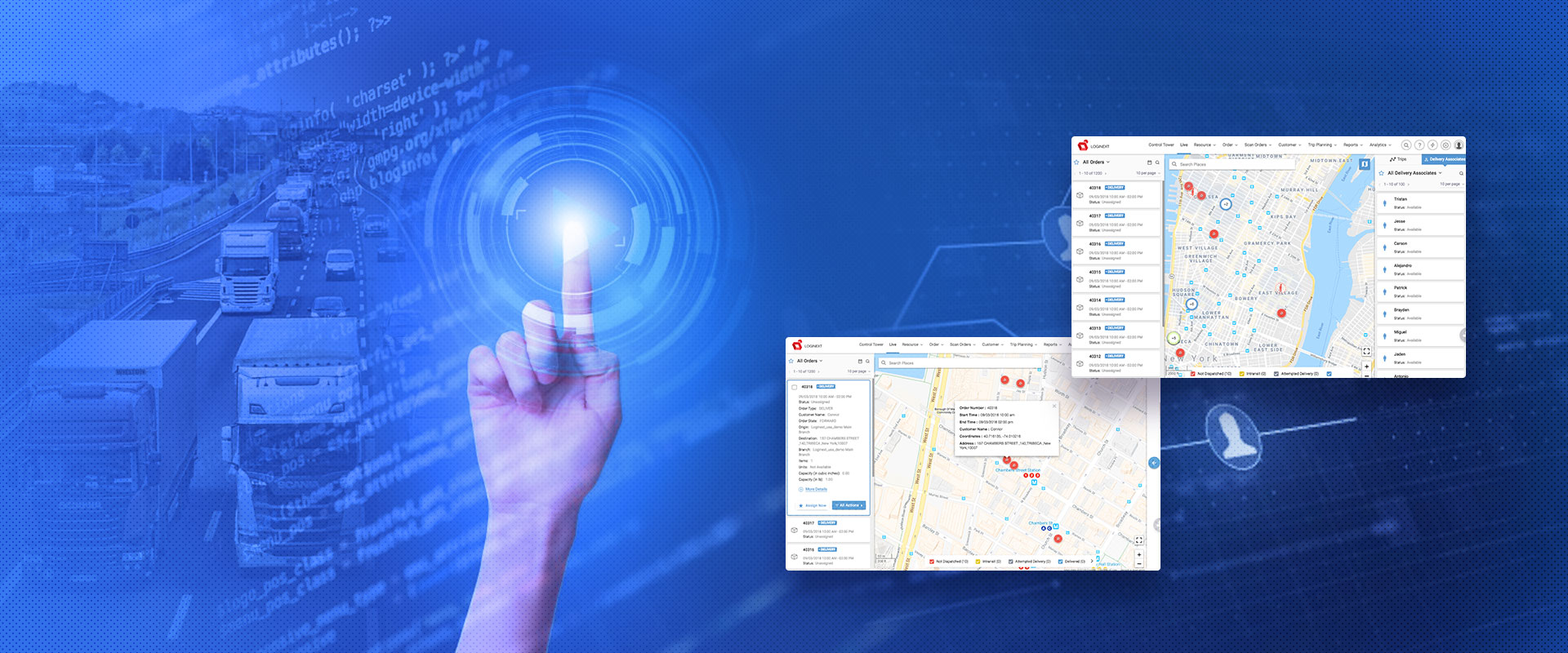 Today, accessibility is as important as affordability. To be truly accessible, you must have complete end-to-end visibility. It was important to ensure that each order placed was treated as a priority to be delivered right on time and in the right manner. LogiNext's software gave the client the platform to deliver much more using far lesser resources, serving more customers with on-time deliveries.
Advanced Delivery Route Planning
LogiNext has unchallenged authority in delivery route planning using their proprietary planning engine which takes into consideration multiple permutations of possible planning constraints, also called, flavors of planning, running on machine learning and artificial intelligence.
LogiNext has more than 16 flavors of planning. What these different planning flavors did, was give a wide range of planning possibilities wherein the client could serve as many customers as they need. The software is totally scalable capable of handling millions of orders at a time.
The optimized delivery route was associated with a driver/truck. This driver/truck could follow a clear map interface to show their entire delivery schedule and follow the optimized route to reach all the destinations on-time.
The client could serve 20% higher orders with LogiNext to new and repeating customers.
Live Shipment Tracking with Notifications
The client could manage and track all their logistics movement from a single dashboard called the control tower. This control tower would give all the details about their trucks, their carriers, their drivers, their shipments, their customers, their routes, and more.
Adding on the edge of agility and responsiveness, LogiNext's live alerts and notifications ensured that the client never missed any delays/detentions, addressing them as they happen. They knew exactly where a shipment was at any moment in time. Even the customers knew exactly where their order had reached so that they don't have to simply wait for it to arrive.
Multiple Integrations in a Single Platform

At scale, the client worked with multiple systems and devices to ensure proper shipment movement. So initially (pre-LogiNext) many different systems, digital or manual, made it difficult to keep track of orders and their timelines leading to inefficiencies. Such inefficiencies either led to higher costs or avoidable delays.
LogiNext's system is perfectly attuned to talk to almost all systems around the world. It is readily compatible with every major ERP, WMS, OMS, TMS, etc. With easy and fast integrations, LogiNext collates all these disparate systems into one dashboard giving a consolidated view of all logistics movement.
Right from the order came into the system to the point where the customer received their shipment, the entire process was streamlined in LogiNext's live logistics planning screen giving complete end-to-end visibility and control.
Totally Customer-Centric and Progressively Environmentally Conscious
Sustainable operations are an ideal outcome of automated and optimized logistics. This means that when the logistics movement is seamless without unnecessary costs, moving through shorter distances, utilizing resources better, delivering more, and with happier customers, the entire ecosystem is stable.
Better Delivery Experience for all Customers

The primary and direct positive impact with LogiNext was a much better delivery experience for customers. This came naturally when they received their order on time, in proper condition, delivered in the manner they preferred.
Continually maintaining these high delivery standards through LogiNext, eventually, the client was able to increase their customer lifetime value, total repeat purchases, higher new customers, and higher order size (per transaction). This consistency brought more stability in their operations, giving them more control with optimized carrier management.
Confident customers and a stable the client translate into better economic outputs. This is primarily due to all redundant parts of the logistics process being eliminated by LogiNext. Customers would be getting their full value and their belief in the economy would grow.
Lesser Distance Travelled – Lesser Emissions
Optimized delivery routes move through far shorter distances, avoiding traffic and unnecessary detention. This means that they use lesser fuel leading to far lesser emissions.
Recommended Read: Why Advanced Delivery Route Planning Is Great For The Global Economy?
In 2018-19, LogiNext helped enterprises cut down CO2 emissions by over 57 million lbs. The client could run an optimized logistics process which is environmentally viable and progressive.
As LogiNext's route planning directed the trucks through traffic free roads, it even benefited the overall traffic congestion in major cities of operation (redistributing traffic over a broader network of roads, breaking bottlenecks). This directly helped in alleviating transport conditions and further cut down on CO2 emissions.
Inference: The Client Improved Their Customer LTV with Optimized Logistics
The client could not just bring consistency and sustain great delivery experience across all their customers, but also improve it with high agility and live logistics control to get the necessary edge in a highly competitive market.

Get in touch with us if you want your enterprise to make similar impact in 2019!
122
4