Why is route planning the key in the transportation and logistics industry?
As customer demands keep rising, businesses are seeking optimal delivery solutions. Route planning software can help resolve delivery hassles and help operations managers get the best out of their fleets. As businesses turn to technology to handle delivery requirements, LogiNext has been helping with route planning and scheduling. Our advanced route planning AI software can help save time and handle multiple routes efficiently. Businesses that are into transportation and shipping utilize route planning software to ensure faster and more efficient deliveries. It additionally helps remove hurdles of delivery tracking and improve driver performance.
What is Route Planning?
Route planning is the process of getting the driver/ delivery associate to take the shortest and most sustainable route to get the delivery completed. Advanced route planning software makes use of artificial intelligence and machine learning to get deliveries completed using the shortest route. This helps the business save fuel, reduce delivery time, decrease vehicle wear and tear, and improve customer satisfaction.
Why is route planning in logistics important?
A route planning software will help improve fleet productivity without any additional cost. Some of the best use of route planning in logistics include-
Customers get real-time tracking information: As delivery associates plan their trips using a driver app, customers are alerted about their order movements. With customers no longer willing to wait for long to get orders delivered, this helps them be assured about their orders. As customer experience is crucial in the logistics industry, dynamic route planning software will be the key to offering customers real-time tracking information.
Best routes are selected for sustainable deliveries: Route planning helps the business to plan the best routes to get orders delivered at the earliest. Creating routing strategies makes it easier to handle deliveries and help arrange and organize routes daily. This also makes the fleet more sustainable to handle deliveries that need to be delivered at multiple locations.
Reduce fleet operations cost: One of the biggest headaches for delivery businesses is the fleet operation cost. Whether it be the rising fuel costs or the need for vehicular maintenance. Dynamic route planning software will help drivers find the best routes to avoid traffic. This will help reduce vehicle idling, improve fleet efficiency and reduce vehicle wear and tear. This also helps the operations team keep track of driver driving behavior and offers them instructions to reduce the fleet operations cost for last-mile deliveries.
Detailed routing reporting: Data will be the key for any business to grow. The use of route planning software will offer the operations team trip insights, helping improve delivery operations. Additionally, advanced route planning and scheduling will help improve the number of deliveries by 10-30% per month. This allows operations managers to develop better strategies to improve business profits.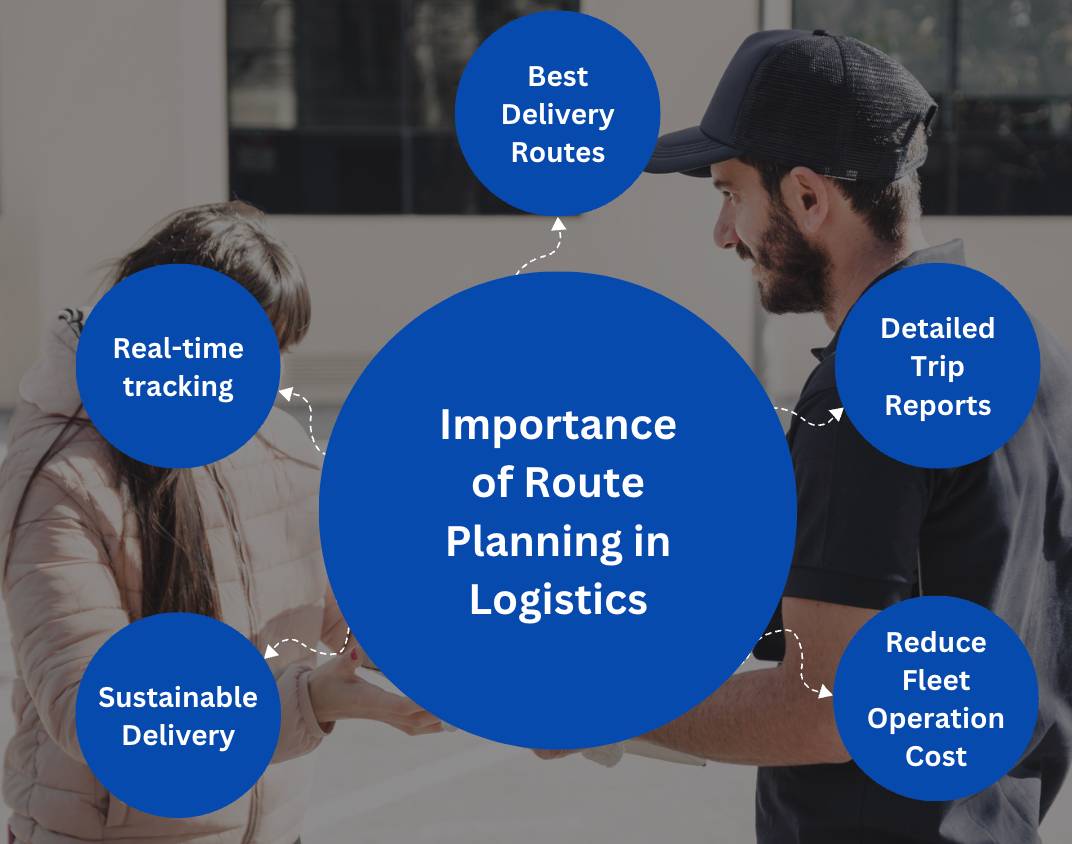 What are the types of route planning?
Route planning will help a business get the orders delivered using the best routes in a fast and accurate manner. Some of the key route planning types are as follows-
Dynamic route planning: Dynamic route planning helps drivers reroute on a real-time basis. The driver app will offer real-time driver location and can make changes to trips based on traffic levels or an emergency like a vehicle breakdown. Drivers can set the handover option from the driver app in case of vehicle breakdown to allocate orders to nearby drivers who would be traveling in the same route.
Multi-stop route planning: While single-trip planning is easy using a manual process, it becomes complicated when planning for multi-stop routing. Here a route planning solution that comes with AI and ML capabilities will help plan for multiple stops during a trip. A multi-stop route can be easily created using route planning software that will offer the best routes and offer the best delivery time for deliveries.
Hub to Hub route planning: A hub-to-hub route planning is crucial for middle-mile logistics. They are usually used to handle deliveries from one warehouse to another. Trips will be planned keeping the total distance between hubs, time for loading-unloading items from the vehicle, etc.
Which are the major industries that use route planning and optimization?
Any business that has to help customers deliver goods or get the items delivered to stores should use route planning and optimization software. Advanced route planning and optimization software will help with smart route planning to get deliveries completed within a set timeframe. It also helps the business ensure maximum customer satisfaction with timely delivery completion.
Some of the top industries that make use of route planning software include-
-Courier and postal service providers.
-Food delivery services.
-Grocery delivery services.
-eCommerce and retail delivery services.
-Pharmaceutical delivery services.
-Waste and garbage collection services.
-Transportation service providers.
Route planning software is what your operation needs.
Now's the best time to get route planning software installed to improve business overall. Not only will it save delivery time but also help get more orders processed and improve profits. LogiNext's route planning software will help businesses automate route planning, get optimized routes scheduled for drivers, offer real-time tracking, and ensure timely deliveries. Click on the red button below to connect with an expert.
25
2