What is Reverse Logistics? How to optimize reverse logistics to improve your revenue?
What is reverse logistics?
Reverse logistics are the activities that occur once the orders have been delivered to the customer. It generally involves the customer returning the product to the distributor or the manufacturer, including faulty product, recycling, servicing, or refurbishment. The recent growth of eCommerce sales has further seen a rise in the returns, leading the logistics providers, distributors, and supply chain executives to think about handling reverse logistics properly.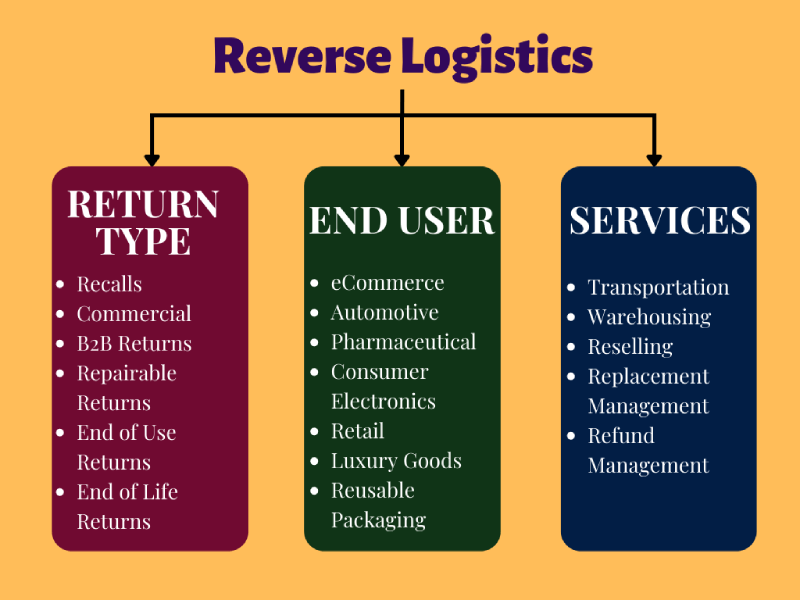 Most common problems for customers that lead to eCommerce returns in the US.
Ordering the wrong item/ Selection of the wrong size and color.

Faulty or damaged goods.

Delayed delivery/ Failed delivery.

The item does not match the description.
Reasons for people to purchase products online worldwide:
As observed in the graph below, free delivery plays an important role followed by coupons and discounts, customer reviews, and easy returns.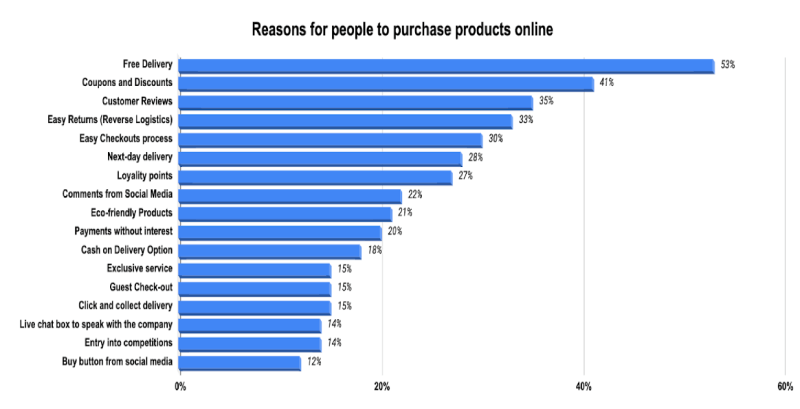 Key elements for automating your reverse logistics.
Any eCommerce business should have streamlined forward and reverse logistics to ensure success. With the spike in online orders, reverse logistics has become more prominent, which has made it difficult to manage operations and customer experience. Before choosing your ideal partner for shipping your logistics, here are some pointers that should be considered-
Complete Visibility of Orders: Having complete visibility of the orders (for forward and reverse logistics) is the key to ensuring maximum customer satisfaction. With the ability to track orders in real-time, the store/ warehouse managers can keep track of the orders while customers don't face any bad experience on order returns, which will ensure they will return to purchase from your store/ site. 
Efficient fleet utilization: While most businesses would like to ensure minimum returns on deliveries, they still can't be taken out of the equation as the reverse logistics market is set to grow at a CAGR of 12.4% from 2022 to 2028. Having your fleet designated to drivers with specific skill sets will ensure efficient fleet utilization for both- forward and reverse logistics.
Ensure the best reach: Setting up a geocode fencing (using pin-codes) will ensure your drivers are aware of which areas or regions to cover for deliveries and reverse logistics needs. This will also help drivers reach the location at the earliest possible thus improving the customer experience while resolving on-demand reverse logistics needs.
Value-added services: Finally, before signing off your reverse logistics provider, ensure they offer services like doorstep quality checks, instant refund, electronic proof of delivery, temperature-controlled shipping containers, etc. 
What are the 5 Rs of reverse logistics?
Returns

Reselling

Repairs

Repackaging

Recycling 
Make a foolproof plan for reverse logistics!
As the focus now turns toward a sustainable economy, Gartner Research suggests that 70% of businesses are planning to move towards a circular economy. The circular economy allows the once disposed products to be repaired or recycled to have value again, reducing waste entering the landfill.
Reverse logistics can easily become a headache if not handled properly. To ensure efficient and profitable reverse logistics- planning, management and execution will hold the key. With LogiNext, you get the best last mile and reverse logistics software to help you automate the order return process, assigning drivers based on their skillsets and offering real-time order tracking. The delivery associate can scan the barcode and also collect customer feedback on why the delivery was returned which can help identify issues to avoid similar situations in the future. 
With efficient fleet management software, on-demand returns can also be handled with ease. A complete collocation of your delivery and return reports can be customized as per company requirements. We can also merge with third-party logistics providers to offer you the best result for reverse logistics. LogiNext has helped over 200+ global enterprises to assist with logistics requirements for first mile delivery, last mile delivery, reverse logistics, and more.
38