Strengthening Logistics with End-to-End Movement Visibility and Process Control
End to end visibility of all resource movement across a company's distribution network gives a cost and efficiency advantage for companies. When you add machine learning backed planning, routing, and data analytics in the mix, the resultant benefits have the potential to drive profits through better agility and control across logistics and operations processes.
Technology has enabled us to record, plan, allocate, dispatch, track, validate, and analyze all freight movement from a single dashboard with clear and real-time actionable insights in an easy-to-understand format. This leads to an agile, reactive, and dynamic setup for a company's transportation management system. We cover this in our 'Control Tower' feature. Imagine having a unique birds-eye view of a company's entire operations from a single point and being able to plan and direct resources as and when required with a complete backing of deep analytics.
Extensive Database of Drivers, Vehicles, Destinations, and Routes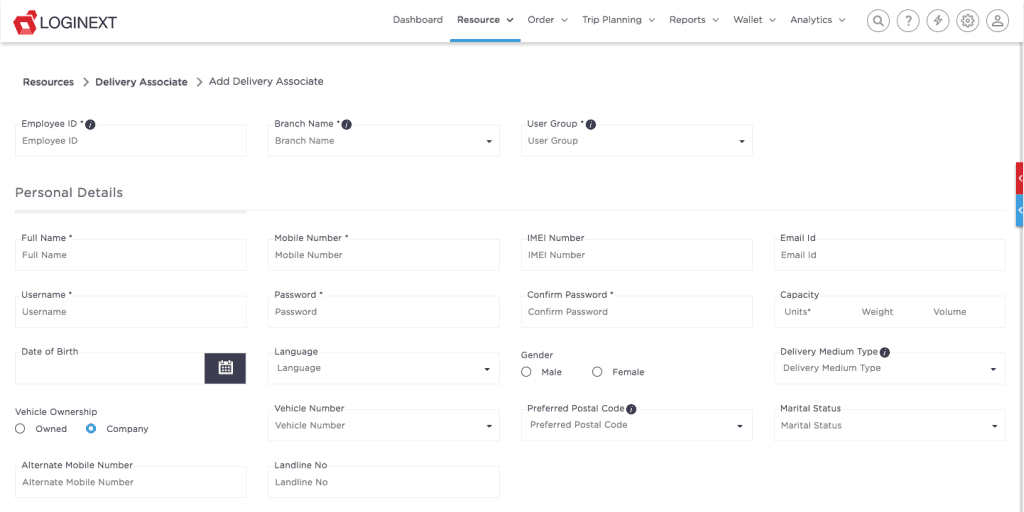 Data analytics require a very stringent and unadulterated base of functionality. With LogiNext a client can have all each facet of information associated with their fleet and drivers in one place. In terms of compliance, factoring in the implementation drive of Electronic Logging Devices in the United States, maintaining details of each vehicle and driver is of utmost importance.
Even the delivery routes and the associated addresses of destinations can be seen through a central dashboard. The company can geocode these addresses for better movement visibility. This means that whenever a vehicle enters or leaves a geocoded area, relevant actions or alerts can be initiated. Suppose the manager wants an automate starting a trip when a vehicle leaves the hub. With geocoding this is possible. All key milestones can be used as a trigger, such as when the vehicle begins on a specific route.
Planning, Allocation, and Dispatch
Once a company has all the relevant information regarding the resource, routes, addresses, orders, shipment details, traffic specifications, climate conditions, compliance guidelines, and proposed and possible ETAs, then the planning can begin.
The company can plan the schedule in a way that increases the overall capacity and resource utilization. Idle or over-capacity is a credible cost and inefficiency creator in transportation management. To reduce this, clear visibility or all available capacity must be measured alongside the possible load factor. Each of these aspects is important to sustain profitability and be ahead of any freight rate fluctuations (especially if the manager must delve into the spot markets).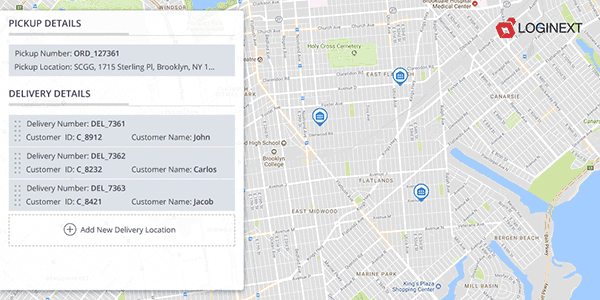 Optimized schedules with proper routes factoring in local traffic and weather patterns (more relevant following the recent polar vortex disruptions) would ensure accurate ETAs and on-time deliveries. Moreover, automated allocation of orders to vehicles and drivers best suited to fulfill them (based on their capabilities and skill sets) helps companies plan better. Automated dispatch of orders helps reduce overall detention at the originating hub and further in-transit delays.
Recommended Read: Plan And Optimize Each Part Of Your Delivery Process
Real-time Tracking, Route Optimization, and Dynamic ETA Alerts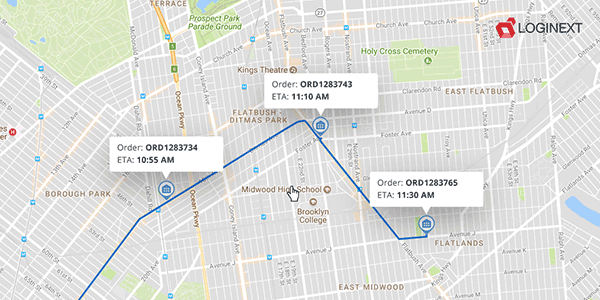 Real-time tracking of vehicles enables companies to become more reactive and dynamic in their fleet management. Each in-transit development is duly recorded and alerted for all the stakeholders. Routes optimized for traffic and weather helps sustain the ETAs and ensure on-time deliveries. Any delay or detention is immediately reported through live-alerts. The manager can, hence, take corrective or remedial actions in quick time.
Driver behavior and hours of service can be tracked in real-time. Speeding or harsh-breaking can be set as triggers using GPS tracking within LogiNext's system. Such timely alerts help managers track vehicle and driver performance. Tracking of the hours of service helps be in control of any undue delay or detention due to the updated regulations. Route deviation (driver takes a different route from the planned one) would also set off a trigger for all stakeholders. Moreover, live-temperature tracking helps the company to better control the quality of the in-transit merchandise and comply with various service-level agreements (SLAs).
Recommended Read: Track Drivers In Real-Time And Ensure SLA Compliance
SLA Compliance and Hub-load Balancing
SLA compliance is extremely important while meeting multiple criteria such as on-time delivery, shipment-related compliances (such as within the chemical, oil, and fresh-food industries), vehicle-ratings, and other things can be tracked and recorded in real-time for complete clarity and transparency.
Real-time tracking and dynamically updated ETAs is visible for all stakeholders including the intermediate hubs. This means that each destination point can plan for their own workforce requirements for loading and unloading purposes.
Electronic Proof of Deliveries
Transparency and accountability invalidation of all deliveries is a crucial factor in transportation management. LogiNext's cloud-based freight movement optimization involves complete electronic proof of deliveries. The delivery is documented through time-stamped images and signatures. This helps reduce invoicing errors to a great extent. Moreover, as the proofs are synced with the central system in real-time, the manager can view all successful (partial or failed) deliveries with authentication documentation and reasons in a single dashboard.
End-to-End Visibility and Automation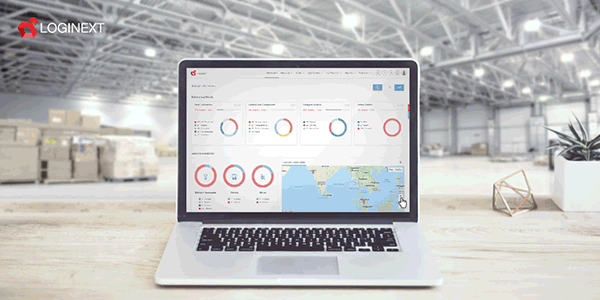 Control tower offers such end-to-end visibility of all freight and resource movement in real-time. Adding on the power of planning, allocation, dispatch, tracking, validation, and analytics from a single dashboard, the manager is benefited with a perfect vantage point to make timely and key strategic decisions. The single dashboard also gives control over the automation of all processes from a single platform.
Comprehensive analytics covering each event within the transportation process gives the manager a complete snapshot of the bottleneck, problem points, and opportunities within its freight management system.
To add to the exhaustive elements of the control tower, the manager can, also, simply use their voice to view or control any aspect of fright management. Using voice-controlled planning, routing, tracking, and analysis, the manager can simply ask the system to allocate a specific order to a vehicle or find out the status of an in-transit shipment.
Cloud-based optimization of fright management here helps create the complete end-to-end planning, optimization, tracking, and analytics platform for companies.
100
1