The Future of Pizza Delivery is (99%) Automation
Whenever someone says 'Pizza', the first thought that follows is 'Delivery'. It is almost an assumption that pizza is supposed to be delivered. This is a trend that was started by Dominos back in the days and it has become the norm now. What started with 30-minute deliveries for pizzas is now across the spectrum- from all kinds of food to groceries as well as parcels in the woke of Quick Commerce. 
As a consumer, this is sheer convenience. But if you're on the other side, making this happen, there is a lot of work that goes in. Predicting orders, estimating peak hours and peak days, estimating the number of delivery drivers and operation managers accordingly, communicating ETAs and delivering a great end customer experience- all of these are elements of delivery management. 
Challenges for the QSR (Quick Service Restaurant) industry
The pandemic has given an unprecedented boost to online food and grocery delivery industry. Amid the COVID-19 crisis, the global Last Mile Delivery market which was estimated at $32 billion in 2020, is projected to reach a revised size of $53.4 billion by 2027. All of this has led the QSR industry with the likes of McDonald's, KFC, and Burger King to reorient their thesis and work through some of these challenges:
High Commission by Food Aggregator Apps
One of the biggest trends of the last few years has been the rise of food aggregator apps like Uber Eats, DoorDash, Deliveroo, Zomato, and the likes. In a push towards profitability, these apps have increased the commission they charge restaurants and it is now reaching prohibitory percentages for restaurants. This is leading larger QSR chains to own their delivery mechanisms and give a push to take their own orders and manage them by the use of delivery automation platforms like LogiNext. 
Delivery Driver Management
When a QSR chain starts delivering its own food, either via its own fleet or via firms that provide riders, another challenge crops up- Delivery Driver Management. In a game of low margins, it is important to know how many riders to hire, how to allocate orders efficiently, and also provide a great end customer experience by regular communication. Again, for all of this, a solution like the LogiNext Mile Platform which is hosted on the cloud turns out to be a great way to execute the perfect hybrid model for delivery driver management. 
Delivering a great customer experience
This is the single biggest factor in the success of a brand and this is where it all has to tie in. How can one deliver to the end customer on time, every single time? And have a delightful experience throughout the ordering and delivery process. For this, having a sound technology platform is the answer (cheat sheet for a great customer experience). A digital and optimized backbone can help run all the logistics processes smoothly and ensure happy end customers which ultimately results in repeat orders and higher revenues. 
Features of a new age Delivery Management Software
To overcome all of the above challenges, a delivery automation platform is a good solution. A SaaS product for delivery management and delivery automation optimizes for the following:
Reduce Delivery Costs

Increase under 30 minute deliveries

Improve end customer experience

Improve the rider experience

Bring in overall operational efficiency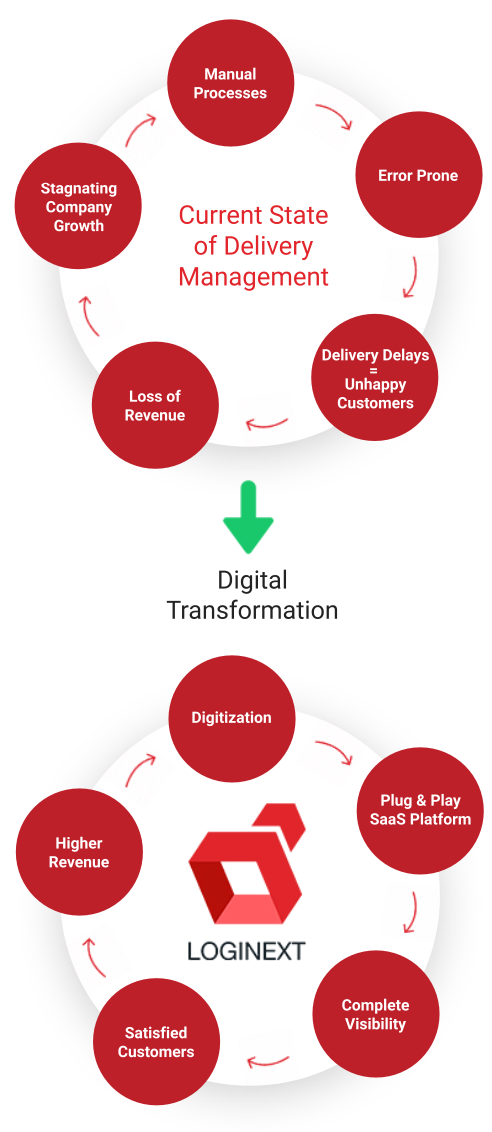 To accomplish the above, here are the features at play:
Auto Order Allocation 
When there are hundreds of orders coming in every hour from different parts of the city with different priority levels, how does one allocate order? Till very recently, this entire process used to be manual where localized human intelligence was used for allocation but at scale, this breaks down. AI and ML powered algorithms come the rescue here which help an operation manager to automatically allocate orders at the click of a button. 
Route Optimization and Route Planning
The AI and ML algorithms we speak of above has route optimization at the heart of it. Route Optimization technology primarily works on the traveling salesman problem that calculates the best way to travel between two points. QSR chains, CEP (Courier, Express and Parcel) companies, and Retail firms making last mile deliveries can really leverage the power of advanced route optimization to make efficient deliveries. (7 last mile delivery trends for 2022)
Fleet Management / Delivery Driver Management
The Fleet Configuration module on the LogiNext Mile Platform lets you apply various fleet-specific settings as per your operational requirements. You can configure your delivery associates' skill sets, enforce checks on their license validity and insurance expiration dates, set up the minimum capacity utilization parameters for your fleet, and more.
Factoring in Food Preparation Time 
Preparation time can be factored in Auto-Assignment as well as Pre-Order ETA calculation. Preparation Time can be defined at the order-level, item-level, and branch-level. For example, if an order is placed for 5 pizzas; the Preparation Time of 1 pizza can be set as 15 minutes and the Incremental Prep Time for the item can be set as 5 minutes. This would mean that the preparation of subsequent pizzas (post the preparation of the first one) will not take 15 minutes each, but 5 minutes each instead. This means that the Preparation Time of the order will be 15 minutes + (4*5 minutes) = 35 minutes. Such granularities can be decided by the QSR chain.
Role Based Access Controls
Using this feature on the LogiNext platform, one can set up role-based access controls for delivery associates. Permissions such as planning one's own trips, transferring an order to another delivery associate in the case of an emergency, and many more, can be defined for each delivery associate.
Why 99% Automation?
Well, at the end of the day, it is humans that run the show. Even with robots and all kinds of automation, the human touch is critical to making any pizza delivery a happy experience! Delivery automation is only to relieve humans of manual mundane tasks and play a role at a strategic level.
26