Enhanced Communication and Interactivity for On-Ground Delivery Personnel
On-ground delivery personnel and field agent movement can be planned, tracked, and optimized using LogiNext's planning and routing system (which runs on machine learning backed algorithms). With effective schedules and permanent journey plans for the delivery and field agents, resource movement cost can be reduced while increasing overall resource utilization. Shorter distances traveled with lesser detention leads to higher number of deliveries fulfilled and visits accomplished.
Real-time tracking backed with proper validation processes (electronic proof of deliveries), the delivery process becomes agiler and more reactive. Such a logistics management system is important for any company and it eventually creates a key business differentiation. Last years mega e-commerce sales events saw last mile deliveries play a big role.
To sustain this agility and reactivity within the system, the on-ground delivery personnel and field agents should be able to constantly communicate with each other and with their management.
Instant Messages and Chatting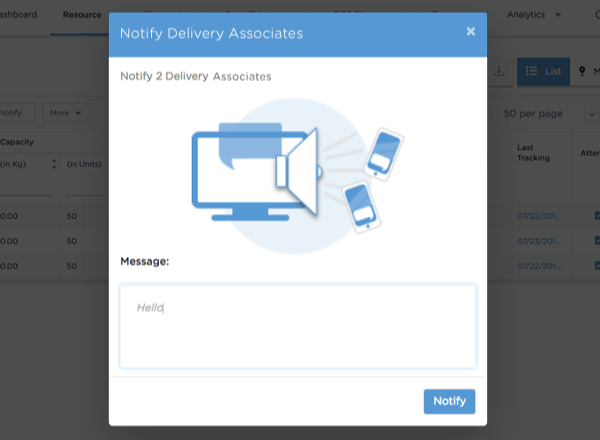 Delivery personnel can receive instant messages from their managers regarding any order update or any pertinent ground-level insight. These messages would appear as push-notifications in their applications. Such instant messages can save them a lot of time as it would give them clear directives regarding any forthcoming situation.

They would also receive broadcast messages sent by the manager (for multiple delivery people within the branch). These messages can hold significance in terms of strategizing and reacting to a sudden location-specific issue. Suppose one delivery person has had a vehicle breakdown. In this situation, another delivery person can extend assistance to the detained associate.
The delivery personnel can even chat amongst their fellow associates. Any instant insight, such a closed road or backed-up traffic due to some local event can be shared with the entire team. This would save a lot of on-ground time for the branch as a whole. It would also add to the sense of camaraderie within the delivery people from each branch.
Another sense of the communication associated with delivery movement is the instant messages sent to the customer and the client regarding the proximity of any order.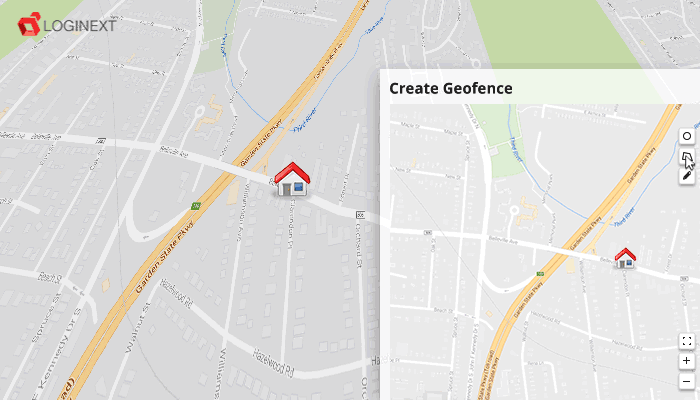 When the delivery personnel or a delivery vehicle enters the geofence associated with a destination, messages are sent to the customer saying that they should be expecting their packaging in a specific time. This helps the delivery person reduce the service time as they are being expected by the customer. Moreover, such connectivity and communication help bring visibility and transparency in on-ground resource movement.
Collect-on-Delivery and Feedback Capture
On-ground communication and connectivity are essential to ensure seamless collect-on-delivery processes. The delivery personnel can use LogiNext's application to record any card or cash transaction initiated by the customer. Giving multiple payment options to the customer adds to the overall delivery experience and brand value of the company. Service standards within last mile delivery goes a long way in retaining a customer.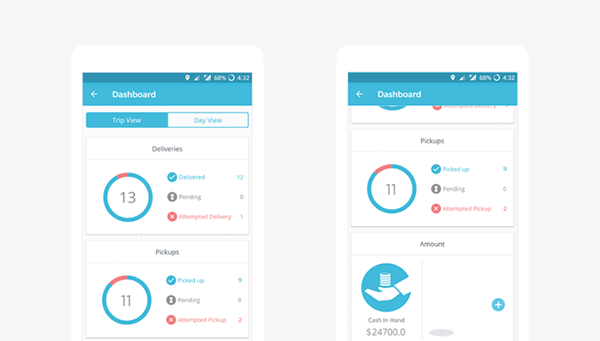 The delivery person simply has to use the app to record the exact amount received and use its multiple integrations to successful the transactions. This happens in a secure and real-time manner with instant notifications for the customer (and the manager at the client's end).

Feedback capture at the point-of-sale or handover is extremely important for any company. The delivery person can record the state of the delivery through electronic proof of delivery. They can also record the customer's feedback in the app itself. Any specific comments that the customer would want to raise can be fed into the system (in the customer's exact verbatim). This can be used for further service or product development. If a company fulfills around 10,000 deliveries in a day, then they can get an instant satisfaction mapping for all these 10,000 customers.
Such feedback is important for the client to get a better understanding where the service or product can be bettered. The fact that the feedback is captured right when the experience is being dealt, makes the feedback accurate and actionable.
82
2