McDonald's BTS Meals and lessons for last mile delivery management
World's largest QSR chain, McDonald's collaborated with world's biggest boyband, BTS, and broke the internet earlier last month. Fans across APAC in the countries this was launched flooded McDonald's with on demand delivery and through food aggregator apps. It became one major logistics management challenge for everyone involved!
Firstly, What's the hype?
What's so special about this meal? The hype created for this meal is not about the fact that chicken nuggets and French fries have two new flavors to be dipped into, but it is said that the BTS meal is a combination of the boy band's favorite items inspired by South Korean McDonald's recipe. Looking at the popularity of these young and talented South Korean boys, McDonald's, the best QSR with fleet management software, collaborated with them to bring something unique which sold like hotcakes! A report says that traffic soared 12% within days and reached the highest peak in terms of the number of orders.
A Growing Trend
Fast casual restaurant brands and large QSR chains collaborating with celebrities are becoming popular these days. Young consumers are attracted to their favorite celebrities and their lifestyle. McDonald's has already worked with Travis Scott, creating the 'Travis Scott Meal,' which resulted in high sales. Celebrity recommendations are famous between 13-39 years of age group, 49% of such consumers purchase products that celebrities recommend or are a part of their lifestyle (recommended read).
Challenges that a peak online sale poses
The McDonald's BTS collaboration is no different than a Black Friday Sale or a Single's Day Sale. With eCommerce companies looking to come up with new ideas to push sales, here are some of the challenges that can come up:
– Sudden peak of order volumes
– Driver or delivery partner shortage
– Managing inventory
– Customer support crisis
– Delivering a seamless customer experience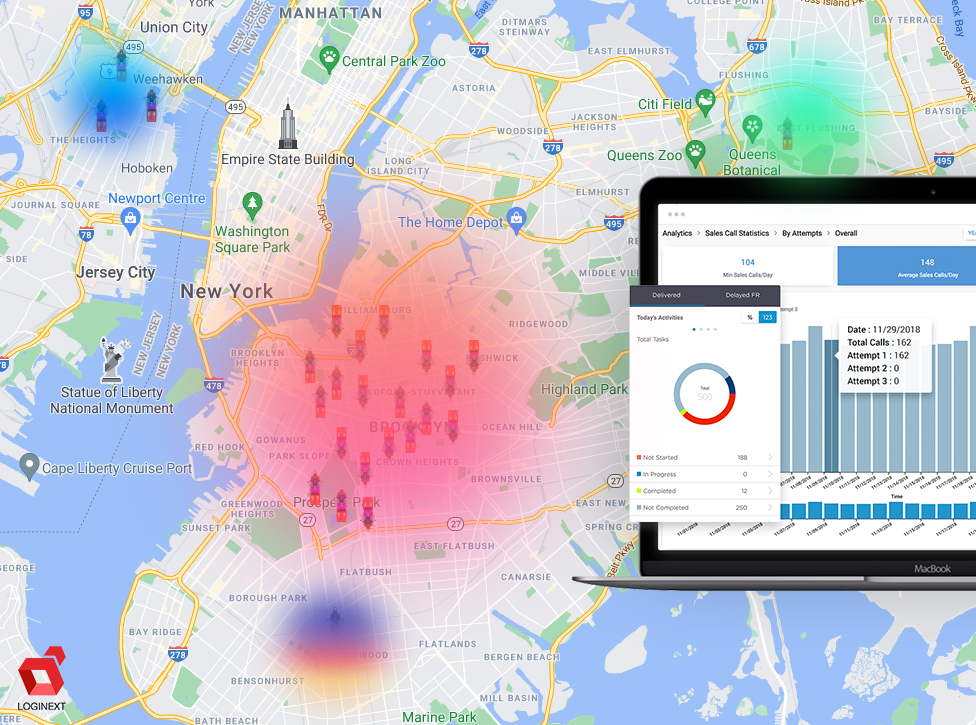 How to handle these online order peaks? Transportation Management Systems to the rescue
Most of the QSR chains handle orders manually or with little help of technology but for managing such order volumes and sales peaks, it is critical to implement a delivery management software like LogiNext Mile.
Cloud based SaaS platforms like LogiNext Mile acts like your technology supply chain officer giving you inputs on how to plan for orders, auto allocate orders, route optimization, delivering a great customer experience by communicating precise ETAs, and such.
Role of Artificial Intelligence
With the help of artificial intelligence, a QSR or CEP brand can efficiently handle logistics management. A real time tracking system is useful when it comes to supply planning and freight management. Artificial Intelligent systems account for several parameters like weather conditions, past data of peak sales, driver skill set and then uses algorithms to determine the best possible order delivery plans.
LogiNext's Route Planning
LogiNext is a one-stop solution for transport automation. It is a SaaS platform with advanced route optimization capabilities, auto allocation of orders, custom branding, and a multitude of features for a great customer experience. It is a platform that resolves the problem of the companies related to products used for developing QSR chains, large courier companies, postal networks, transportation enterprises to optimize and automate their logistics.
Improving the Auto Allocation of Orders
QSR chains or Retail brands can get orders from multiple places- ranging from their own app to telephone to third party aggregators. It is critical to bring all these orders in one place and automatically assign orders in the most efficient way. Machine Learning algorithms can now help take this task and assign orders so that products arrive at the end customer's doorstep quickly and in desired time slots.
Best Route Planner App for Delivery Drivers
The LogiNext Driver App is best suited for drivers to deliver an order safely and for an operations manager to keep a tab on the entire supply chain operations. Using such a system that takes into account the shipper, the carrier and the end customer can help a brand manage customer experience better.
Conclusion
Long story short, the BTS collaboration by McDonald's has been a giant success with an incredible peak in delivery volume. And it is an inspiration for other brands to come up with such relevant campaigns to push sales but before that, it is essential to have logistics management solutions in place.
20