Electric Vehicle Fleet Management Made Simple for the New Age of Transportation
Electrification of transport and logistics is booming, where more electric vehicles are making way to consumers. The usage of electric trucks has offered a cost-effective alternative to streamline business logistics. In fact, fleet management has evolved with advanced AI and ML tools that account for the electrification of transportation. With high-performance analytics and in-depth insights, companies can profit off the sustainable alternative to fueled transport.
While numerous automation techniques have emerged for fleet management and logistics operations, electric vehicles are the latest addition to the technological demands of businesses and their logistics. The requirements to adapt with the introduction of electric vehicles include maintaining an efficient EV route planning, considering the real-time charging status and effective fleet management through EV tracking and advanced reporting insights. Through the benefits of electrification, businesses can harness the economic advantages of sustainable electric vehicles and streamlined fleet management.
Introducing smart features for smart logistics
Electric vehicles are sustainable alternatives that can cut costs for business logistics through fuel usage optimization. With a clearly defined path, advanced AI tools and a streamlined workflow, more businesses can harness the power of electrification through specialized technology. The advantages are that businesses are more prepared with insights into every aspect of fleet management and logistics operations.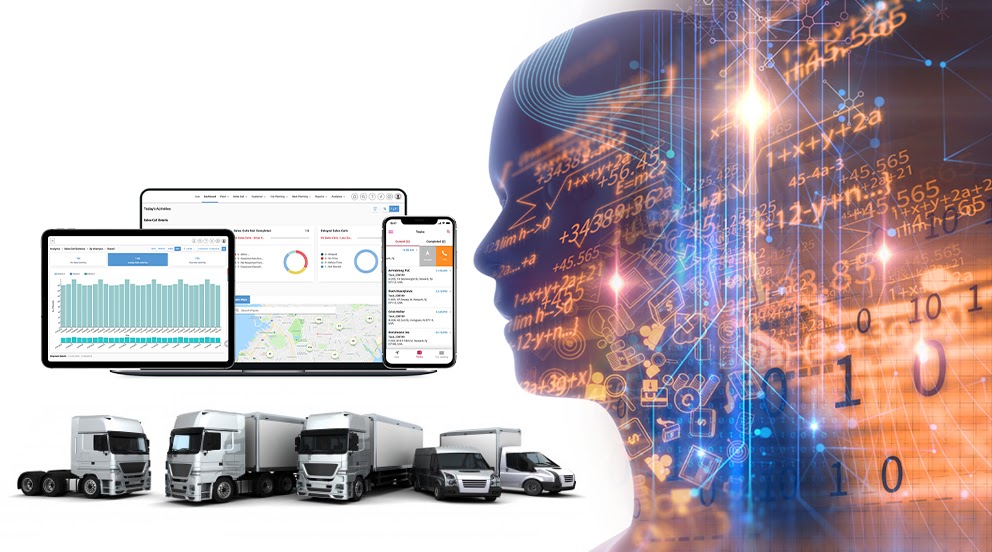 Let's explore the LogiNext engine that accounts for a specialized electric vehicle fleet management with advanced analytical and reporting tools to keep businesses ahead of their logistics and operations.
1. Assessing EV suitable vehicles
Powered with an advanced reporting and analytical tool, you can identify the best-fit vehicles in your fleet that can be substituted with electric vehicles. By assessing the EV suitability of your vehicles, you can dissect the cost-savings, carbon reductions and other aspects of your fleet electrification. After all, the goal is a sustainable business model complemented by effective logistics and fleet management.
2. GPS vehicle tracking system
Utilizing optimized carrier aggregation and efficient route optimization, the GPS vehicle tracking system is packed with advanced features for EV tracking, EV route planning and EV fleet management. GPS vehicle tracking is secure and uninterrupted with real-time data to assess the performance of your fleet management. You never miss a step in your logistics framework with efficient EV tracking.
3. Real-time charging status
Electric vehicles (EV) are still relatively new to the global market, where charging points are a factor to consider when EV route planning. Especially in countries like India, accurate data about the EV charging status will help manage a fleet effectively. With real-time charging status, your electric fleet management is in safe hands. Offering complete visibility on your electric vehicles, you can plan logistics operations accordingly. 
4. EV route planning
The goal of utilizing electric vehicles is to create a more sustainable and cost-effective logistics infrastructure for business. With efficient EV route planning, AI algorithms power up the best first mile and last mile route planning best suited for your EV fleet management. GPS vehicle tracking system maintains the EV route planning, while constant live updates are integrated through advanced admin consoles.
5. EV charging report & alerts
Take control of your fleet by monitoring its charging patterns and tracking the efficiency of your electric vehicles and the routes employed for each operation. With integrated AI tools to administer and maintain the energy costs incurred, electric vehicle fleet management is robust and more effective by saving time and costs. With advanced EV tracking, live updates can ensure your electric vehicles are always ready to perform the concerned logistics functions. Maintenance and monitoring of your fleet's performance are essential to effective business logistics. 
6. Usage reporting and energy savings
Energy savings are the bigger picture of every fleet management cycle. With robust usage reporting and accurate energy savings data, businesses know where to cut costs and how to maximize productivity for maximum profitability. Hybrid plugins and electric vehicles can be used effectively for energy savings and carbon emission reduction.
7. Maintaining battery health
Another top advantage of the LogiNext AI-powered EV fleet management tools is monitoring and maintaining battery health. Know the longevity, performance and usage statistics to keep tabs on the overall performance of each vehicle in your fleet. This information can be leveraged to optimize your logistics operations and service your fleet accordingly. You can track the battery performance due to weather, traffic, route planning and much more.
With everything from real-time charging status, battery health, EV route planning, EV tracking, and transportation management among numerous AI integrated features, LogiNext is the ideal solution for EV fleet management. You can learn more about our EV platform on the website and send in your enquiries for any information regarding this futuristic technology and how electrification will benefit your business.
20