Delivery Management Platform Help With Efficient Delivery Operations
As the millennials and Gen-Z keep the trend of online shopping growing further, it's undoubtedly a good time for online businesses. But as the number of orders keeps rising, the question arises, is your system capable of handling and delivering the orders? A robust delivery management platform would be your best solution to meet business growth. Companies are now focusing on cloud-based delivery management software to improve customer satisfaction, fleet and resource utilization, and sustainable delivery.
In one of our research, we came across that the market value for a delivery management platform has risen from $1.56 billion in 2019 and is estimated to touch $4.01 billion in 2027. With an estimated CAGR of 12.7%, one can see why companies are placing their bets on the best delivery management system as it helps connect the drivers with operational managers to give them complete driver visibility for deliveries using a single platform. Companies are also looking to improve their omnichannel experience, which further scales the need for a reliable delivery management platform.
What is a delivery management platform? And why is its demand soaring?
A delivery management platform will ensure the goods/ parcels are efficiently delivered to the end customer with complete visibility and customer satisfaction. Some of the main reasons for the rise in demand for delivery management software include the following-
– It offers end-to-end visibility of the shipment.

– It helps handle multiple orders per trip.

– It offers customers complete visibility for their orders.

– Fleet optimization and improved customer experience.

– It helps track all orders under a single dashboard.
Automate your delivery management for enhanced operations
The main reason a delivery management platform is crucial is that it helps automate your delivery process, which reduces human error, streamlines delivery operations, and enhances customer experience. A cloud-based SaaS platform will help companies save time and money, make paperless deliveries using electronic proof of delivery, and reduce fuel consumption using optimized routes.
Key features to look for in a delivery management platform.
The eCommerce industry has undergone drastic changes. Businesses should be ready to meet customer demands, delivery turnaround time, and meet customer expectations to ensure customer retention and profitability.
1. Route Planning and Optimization- A delivery management platform will help select the fastest and most sustainable routes to ensure maximum fleet utilization. With the help of AI and ML integrated into the platform, it can plan and schedule routes for drivers considering factors like traffic conditions, drivers' availability, closeness to stores, and driver skill sets. This helps reduce manual intervention for route planning and driver allocation, helping in smarter deliveries.
2. Automated Order Allocation- LogiNext's auto-assign feature helps businesses assign new orders to existing trips automatically. The delivery management system will ensure the existing optimization and planning routes are not compromised and get the same result as route planning. The orders can be added using an add order form, where the uploads can be done using excel or via API.
3. Fleet Management Solution- Fleet management is crucial in helping with end-to-end visibility, scheduled delivery, and order returns. Additionally, you can configure your delivery associates' skill sets and check for license validity, insurance expiry dates, minimum capacity utilization, etc. The fleet configuration feature with the delivery management platform will help with the best interface for everyone included in the delivery cycle- Operation managers, dispatchers, and customers.
4. Integration Marketplace- Businesses can help reduce operational costs and time by choosing the best delivery management software. Keeping customer experience in mind, businesses have started communicating with customers via email, SMS, Whatsapp, IVR, etc. LogiNext helps clients with easy integration on the above platforms. Additionally, integration with WMS, ERP, MAP, Payments, and Carriers can help improve delivery experience and efficiency.
5. Real-time Tracking- When you need to track the distance traveled by drivers, total orders delivered, and get all driver delivery-related information, delivery management software is your best solution. Real-time tracking helps managers resolve unforeseen events, such as traffic jams due to weather conditions, vehicle breakdowns, etc., and get a new route assigned or order transferred at the earliest to the nearest delivery driver. Customers can also get real-time driver location notifications for deliveries, contributing to customer satisfaction.
6. Delivery Driver App- To enhance the delivery experience, a delivery driver app would be a great addition. A driver app can help with fleet tracking, ensure drivers take optimized routes, track driver behavior, and more. The driver can mark his availability (for order assignment), add break time, check the order list, proof of delivery, trip summary, scan AWB, and crates, accept and reject orders, and see their performance (driver gamification) for additional benefits.
7. Business Analytics in Your Fingertips- For any business to grow, one should have key parameters tracked. A delivery management platform that integrates custom reports and analytics will help you make informed decisions, predict future delivery needs, and find areas where improvements can be made to improve business performance.
8. Single Dashboard For Complete Viewing- One of the critical aspects during delivery operations is attaining visibility. LogiNext's interactive delivery management platform helps track data in real-time, translates data to critical insights, and offers visibility of driver location, order stages, and more. The live screen will help monitor your daily operations, identify bottlenecks and take action on orders, trips, and delivery associates.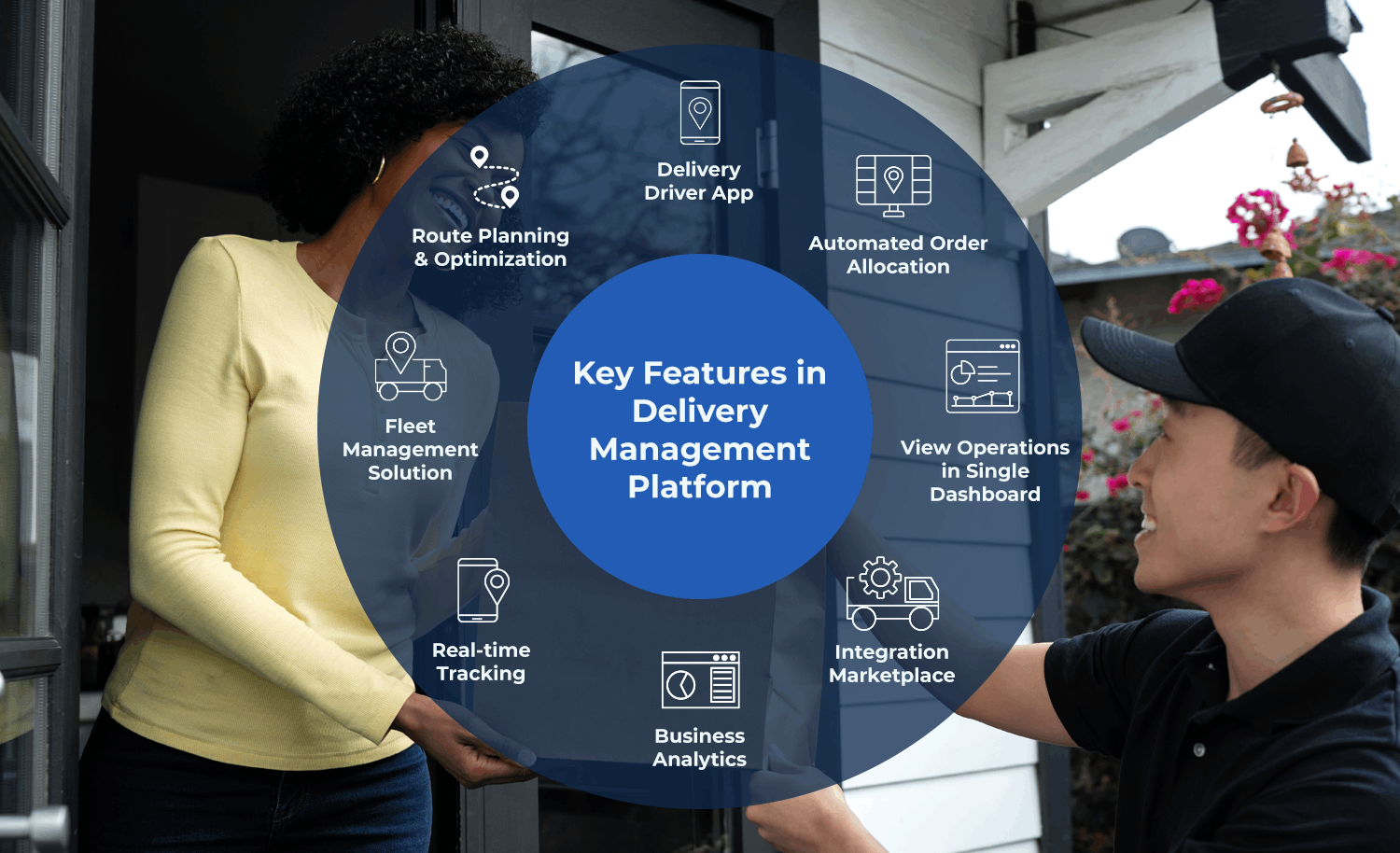 The use of delivery management system is the future:
Delivery management software would help you easily plan, optimize, schedule, and execute all your delivery operations. LogiNext offers features like route optimization, order auto-allocation, order scheduling, real-time tracking, ePoD, eSign, marketplace integration, and more. So whether you are in eCommerce and retail, F&B, CEP, CPG, or transportation, our delivery management platform would align with your business requirements and help with sustainable deliveries. Click on the red button to speak with an expert.
41