#LetsTalkD2C by LogiNext- Online Sales, Last Mile Delivery, Customer Experience and More! 
D2C or DTC has been the talk of the town in the recent past. With Warby Parker filing for IPO with valuation talks of $5 billion, D2C brands across the globe have their eyes set on it. At LogiNext, we are in the thick of things with our platform being used by several enterprise brands for their delivery management and with that in mind, we're announcing the #LetsTalkD2C campaign where we're initiating a conversation around the importance of customer experience and delivery management when it comes to last mile deliveries by brands.
Eyeglass maker Warby Parker plans to go public through a direct listing. The company was one of the original direct-to-consumer brands, but now has more than 140 brick-and-mortar stores. pic.twitter.com/5FNbfYnqBv

— The Wall Street Journal (@WSJ) September 28, 2021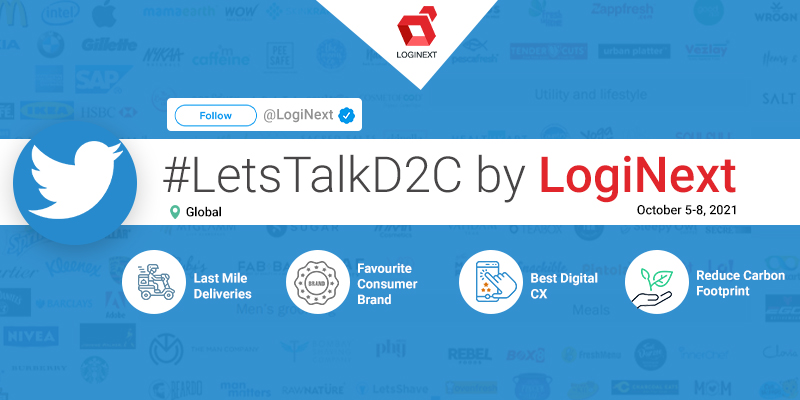 For the next week, from October 5-8, 2021 we'd be speaking about D2C, the importance of last mile deliveries in the success of a brand, customer experience in the post pandemic world and such. We'd love to hear from you on the subject. Follow @loginext and share your thoughts on the several questions that'd be posed during the Twitter Chat and stand a chance to win some exciting prizes along the way!
The Last Mile Delivery Market has grown multifold last two years. Our research team @LogiNext is working on something engaging to deliver insights in the coming week, watch out for #LetsTalkD2C #LastMileDelivery pic.twitter.com/rZW4BRwZBN

— Dhruvil Sanghvi (@dhruvilsanghvi) October 1, 2021
27