7 Trends For Logistics & Supply Chain Industry In 2023!

The supply chain industry has started to get back on its feet after the derailment caused due to COVID-19. Predicting and adapting to the dynamics of the future of the market has become an important aspect to ensure order fulfillment. Some of the significant challenges that the logistics and supply chain industry faced include inflation, driver shortages, rise in labor costs, etc. Technology holds the key to improving and meeting customer expectations in this volatile sector. E-commerce and retail players have also started to cope with shrinking margins with an increase in competition and the want to satisfy customer needs with a seamless delivery experience.
Now that most of the challenges have been stated out, let's adapt to these supply chain trends to stay ahead of the competition.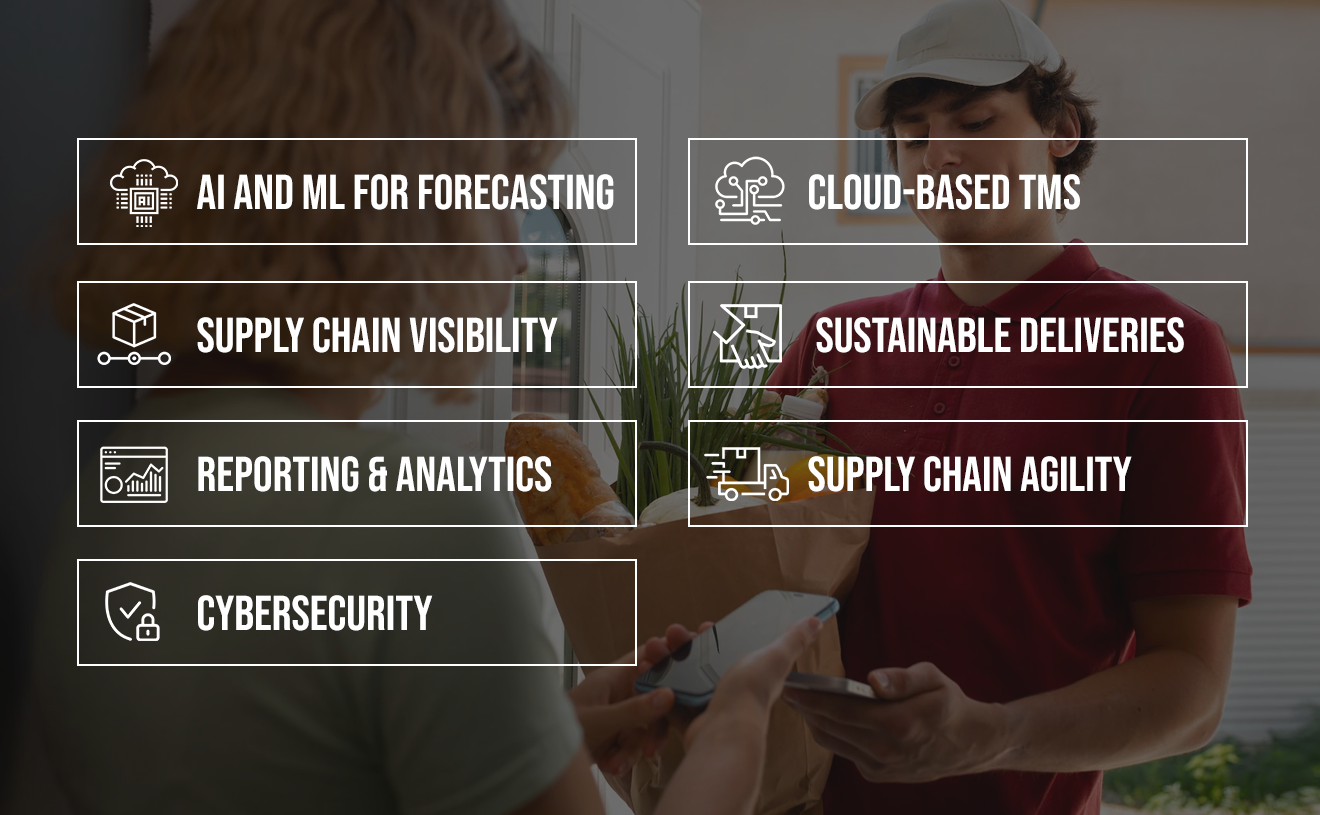 Changing To A Cloud-Based TMS:

Choosing a cloud-based TMS solution has been the go-to choice for many in the logistics sector. A

cloud-based TMS solution

offers complete visibility across the logistics network. This helps the operations team better handle the supply chain and logistics. With the ability to scale as per requirements, it offers enterprises a scalable solution to meet new industry trends and market shifts. Businesses adopting digital logistics solutions will help bridge critical gaps for seamless data exchange and centralized control to help drive strategic decision-making.
Improving Sustainable Deliveries:

Many environmentalists pointed out that COVID-19 was the result of the environment giving us signs that enough is enough. This has led many experts to look into their logistics and delivery methods. Top companies across the globe have come together to reduce carbon emissions. The use of advanced route optimization which uses AI and ML for routing to find the shortest route further helps reduce fuel costs, reduce carbon emissions, and ensures better

fleet utilization

. The circular economy is another concept that should be implemented to optimize logistics operations and reduce waste creation.
Offering Complete Supply Chain Visibility:

A logistics management system that can offer end-to-end visibility of the supply chain holds the key. This will help businesses find the bottlenecks in their supply chain and fix them at the earliest. It will also help with real-time data insights to help in strategic plans to reduce downtime, order returns, and improve customer experience.
Advanced Reporting & Analytics:

To keep up with the modern trends and understand customer expectations, real-time analytics holds the key. A cloud-based TMS solution can help operation managers manage data most efficiently. Advanced analytics can help with insights on key performance indicators and helps improve supply chain and logistics efficiency, along with automation to achieve the best results.
Use Of AI And ML For Forecasting:

A logistics software solution that can forecast customer demand will help in inventory management. The business will be able to meet customer demand and ensure timely deliveries. LogiNext helps businesses meet the demand spike by assigning delivery associates to branches that are receiving higher orders. The presence of AI and ML in a logistics software solution will help meet bottlenecks observed during end-season sales,

festive sales

, etc.
Supply Chain Agility:

The pandemic taught the supply chain industry should be agile enough to meet customer demand. If a business can adapt to market changes it can be assured of growth. An

omnichannel

approach to order fulfillment further helps improve supply chain agility. An

agile supply chain

will help businesses match customer demands, streamline the supply chain, reduce supply chain costs and enhance customer experience.
Cyber Security:

As companies move to cloud-based TMS solutions, a cause of concern for many was related to cyber-attacks. It was observed there was an increase in cyber attacks by 300% in 2022. Companies offering cloud-based logistics management solutions have to take enhanced steps to ensure client data is protected at all costs.
Read: LogiNext Transportation Automation Platform Sets High-Security Standards
The global supply chain is going through a drastic change with many investing in cloud-based TMS solutions. With the help of a delivery management system businesses would be able to handle the additional pressure faced by the modern supply chain. LogiNext has been helping businesses sort their logistics and supply chain hurdles to ensure greater success. We offer the best logistics management software to help grow business, run multiple forecasting scenarios, and improve revenue and customer satisfaction. Are you ready to make your business the best in logistics and supply chain? Click on the red button below to speak to our expert.
28