What makes Domino's the No. 1 Pizza Company in the World? #LogiNextInsights
This article is a part of the #LogiNextInsights series where we bring to you insights on the secret sauce behind the world's major brands!
Domino's dominates the pizza industry as it accounted for

42% of pizza sales

in the US

for Q4, 2021.
Domino's opened 285 stores globally, resulting in ​​a

15.4 percent

increase in revenue

to $2.19 billion.
As inflation is on the rise, Domino's predicts an

8-10% rise

in its food basket cost

.
Domino's is a multinational pizza restaurant, founded in 1960. As of 2021, Dominos had a total of 18,848 restaurants globally and is expanding further. Aside from increasing its store count steadily, the company was able to generate revenue of 4.36 billion U.S. dollars in 2021. Dominos ranked above its competitors in the  American Customer Satisfaction Index (ACSI), receiving a score of 78 in 2021, with Pizza Hut rated 77 and Papa John's 76 in the ACSI score. For more such insights, continue reading below-
Domino's Still the King of Quick Service Pizza Chain:
As per a Bloomberg report, Domino's accounted for 42% of pizza sales in the US during Q4, 2021. When the major pizza company's shares were calculated in the top-10 populous states in the US, only Michigan and Georgia were the state where Domino's had the 2nd highest number of sales at 30% and 33%, compared to Little Caesars at 44% and Papa John's at 35% respectively.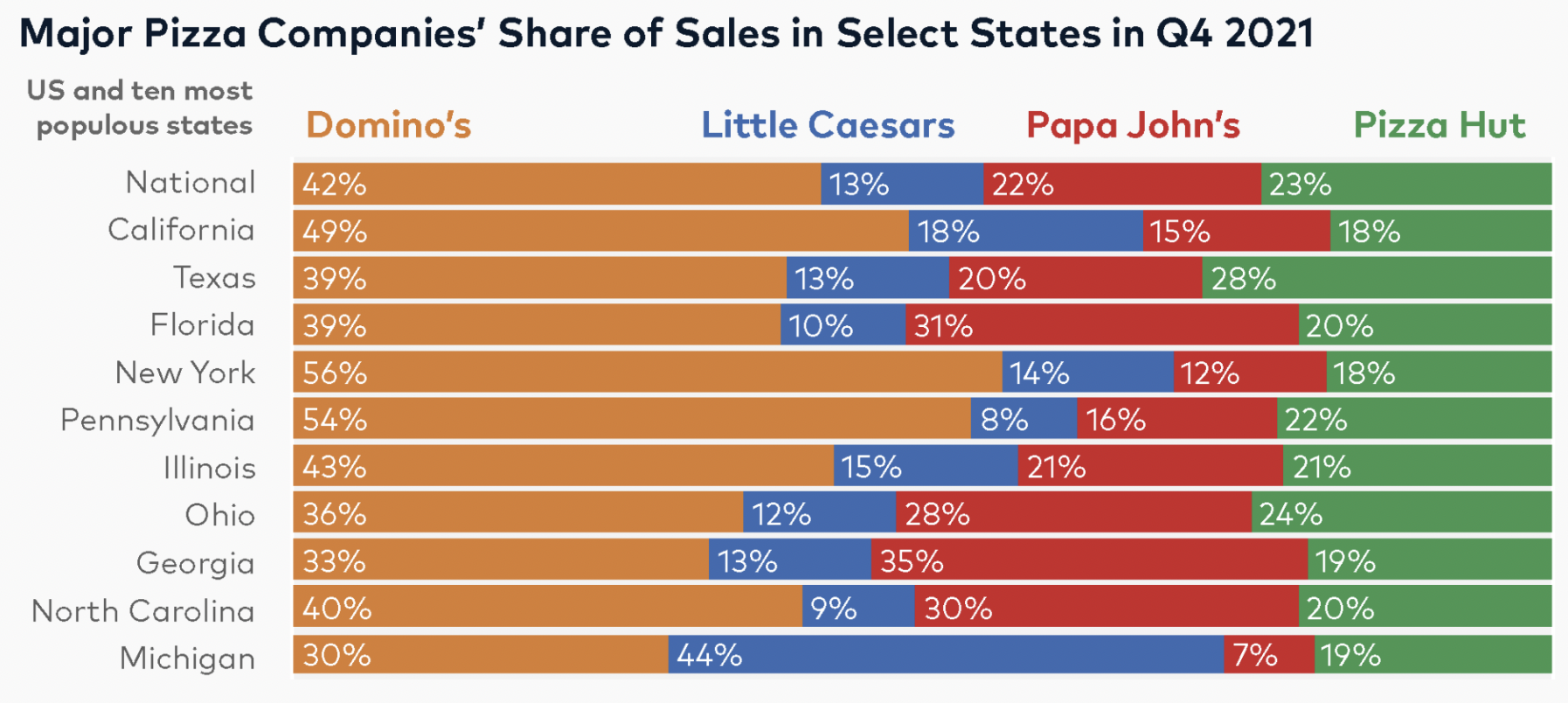 Domino's saw a growth rate of 18% in sales, compared to Q4, 2019. The average transaction value of Domino's was $32. It was the only company that relied on its in-house fleet, and offered customers "Surprise Frees", in which customers ordering from the website or app would randomly be selected and offered free menu items. In late January 2022, Domino's started a promotion where they offered customers $3 for those picking up their own orders.
Global Expansion Growth Strategies:
Domino's has picked up the pace for global expansion, with Japan leading the company record for most stores opened in a year, accounting for 126 new stores.
Domino's had set an expansion target of 7-9% for the next 3-5 years in FY 2021 but has already crossed the target, which currently stands at 10.7%.
Domino's saw same-store sales gathering steam at 10.2%. Online sales grew 21.5 percent to $2.93 billion, which accounted for 78% of their total sales.
"In every market, our fortressing strategy demonstrates that more stores allow for increased marketing investment and increased customer demand, needing more stores to meet this demand. The results this year highlight the importance of franchisee profitability, particularly returns on new stores, to our growth, stated CEO Don Meij.
Start of Autonomous Pizza Deliveries:
"Domino's is the home of pizza delivery. Delivery is at the core of who we are, so it's very important for us to lead when it comes to the consumer experience of delivery" stated Dennis Maloney, Domino's Chief Innovation Officer.
Domino's has partnered with Nuro and started an autonomous pizza delivery service in Houston, in April last year. The autonomous delivery vehicle named Nuro R2 can be used to get delivery made when placing an online order.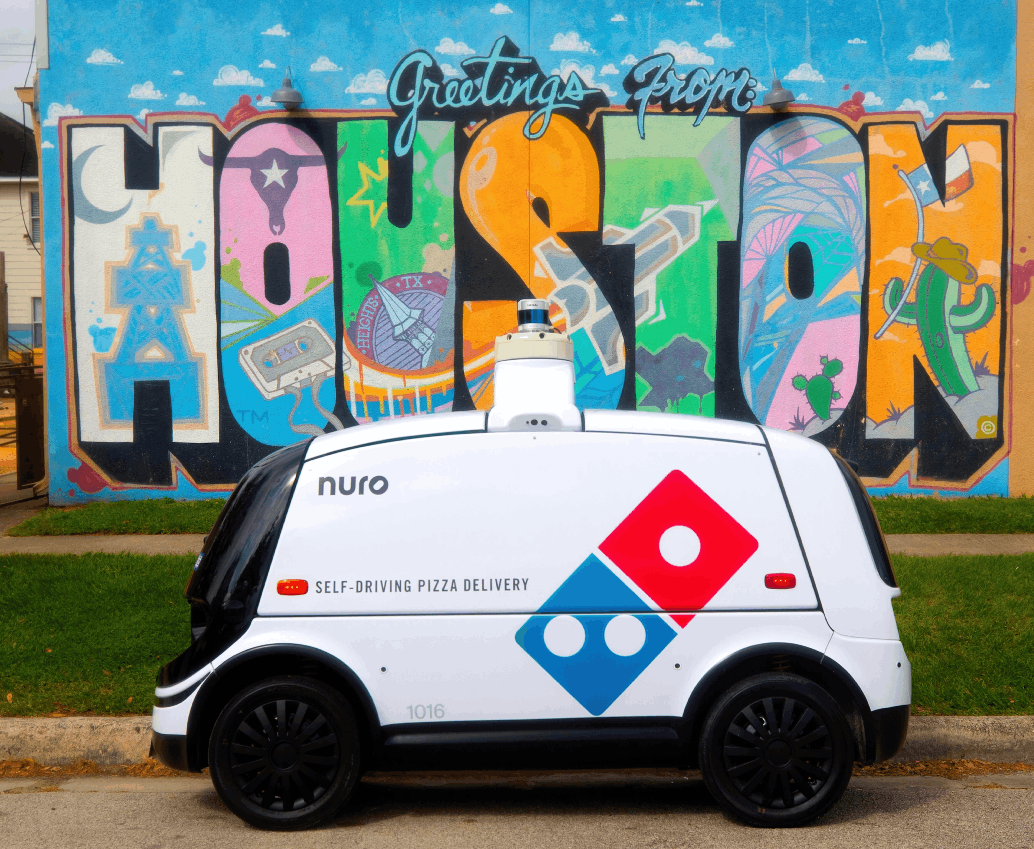 Customers receive text alerts and real-time GPS monitoring to track their deliveries, once the order leaves the store. Once Nuro reaches the customer's address and OTP will have to be typed in to receive the order.
Measures to fight higher food prices without alienating consumers:
Domino's has forecasted an increase in 8-10% of food basket costs, mainly due to inflation, and has planned to modify some of its national promotions to cover the costs.
As prices for meat, cheese, and grains are on the rise, along with higher labor costs, is a concern for Domino's, stated CEO Ritch Allison.
Domino's plans to integrate new tracking systems for orders and update franchisees on ways to use workers' time more efficiently to maintain profit margins, improve fleet efficiency and keep its employees satisfied.
Domino's is also tailoring promotions to be more customer-centric by getting people to order online via website or app, which results in customers spending more, getting customer data, and reducing workforce workload by not having to answer phone calls.
LogiNext helps companies with customer-centric solutions to help businesses grow. We are the #1 transportation automation platform that will ensure the complete automation of your logistics and supply chain challenges. Whether you are looking for route optimization and planning solutions, real-time tracking of orders, ETA for order deliveries, auto-allocation of orders for efficient fleet utilization, ePOD, or carrier integrations, we have you covered.
Stay tuned to read more insights on companies that tend to retail, eCommerce, F&B, transportation, CEP, and more.
Clear your queries by talking with an expert by clicking the red button below.
17