Here's the Secret Recipe used by Walmart and Amazon to Increase Customer Satisfaction
Customers want better and faster deliveries, much more than just a few years ago. Solely brick-and-mortar retailers are expanding with ecommerce channels whereas brands selling online are associating with stores to create a better experience for the end-customer.
We have seen the Walmart acquiring Jet, Bonobos, Modcloth, and Shoebuy while planning to set up around 1000 pickup locations for online grocery shoppers. The retail giant is keen on riding in the front of the omnichannel bus. It is doubling down on same-day deliveries for all its merchandise. Racing Walmart to the front is Amazon with its grand acquisition of Wholefoods to enable faster deliveries with multiple pickup options. Not far behind is another player, 'Target' which has acquired Shipt to better manage their last mile deliveries.
There it is, you see, last mile delivery optimization is the common ground or tool all these companies are using to enable same-day deliveries and give an omnichannel experience to all their customers.
Same-day deliveries are driving purchases and are enabled through:
| | |
| --- | --- |
| Effective schedule planning | Automated allocation of deliveries and subsequent dispatch |
| Optimizing routes with live-traffic analysis | Live tracking of on-ground delivery associates |
| Dynamic ETA calculation | Instant alerts and notifications |
| Two-way communication with delivery associates | On-time deliveries |
| Electronic validation of deliveries (ePOD) | Point-of-sale feedback capture |
LogiNext's last mile delivery optimization engine utilizes machine-learning backed planning and routing for complete end-to-end delivery process control and visibility. Enhanced transparency in resource and order movement with error-free payments and invoicing (while syncing all on-ground events with the central system in real-time) comprises part of the omnichannel enablement program. This gives retailers and ecommerce players the unique ability to fulfill customer demand with efficiency, increasing sales and satisfaction at the same time.
What's more, with dynamic ETA calculation, customers no longer have to wait around wondering when their orders would arrive. They would receive notifications whenever their order reaches their area or is delayed for any reason.
You can take our word right now that last mile delivery optimization drives customer satisfaction, and stop reading.
However, if you need more convincing, you can read the next top five questions which would cover all your doubts. 
How Can Route Planning and Live Delivery Tracking Help with Same-Day Deliveries?
Effective schedule and route planning help companies keep all their timelines and commitments to the customers while the live tracking of delivery movement gives them the visibility they require to be responsive and agile. Their reaction time is greatly reduced and hence they can cater to any customer grievance quickly.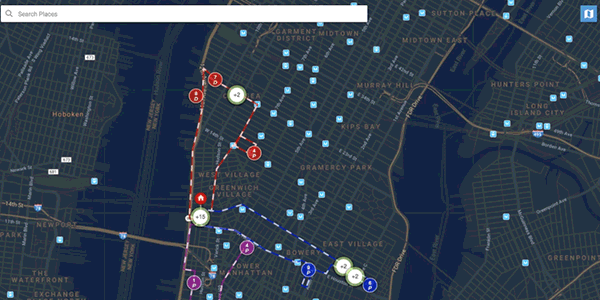 LogiNext leverages more than a billion location data points to analyze real-time traffic and weather patterns to suggest the most optimized schedule and route for fulfilling all incoming orders. This schedule helps the client to increase total on-time deliveries completed in a day while reducing the overall turnaround time for resources.
The address verification system within the engine ensures that all destinations are accurately mapped. This negates any requirement to search for erroneous addresses.
How to Speed-up Delivery Allocation and Dispatch?
Auto-allocation of orders to resources should be based on the latter's skill-sets or capacity streamlines dispatch management within the client's system. This means that an order would be automatically allocated to the resource (delivery associate, driver, or vehicle) best suited to successfully complete it. There are many parameters (and constraints) which come into play to make this auto-allocation system perform as well as it does.
These constraints also cover client requirements, whether they want to reduce the overall distance traveled by the delivery person or they want to increase the total number of deliveries completed in a day.
Multiple flavors of planning are covered here giving a wide range for the client to choose from, each giving a unique set of benefits to fit in their strategies.
Once the order is dispatched, the delivery person uses their mobile app to better follow the planned schedule and route. The internal mapping system directs them along their trip to ensure that all ETAs are met. The client can track their movements in real-time and receive timely alerts of all on-ground activities. This gives the client the power of agility and responsiveness by reducing the reaction time.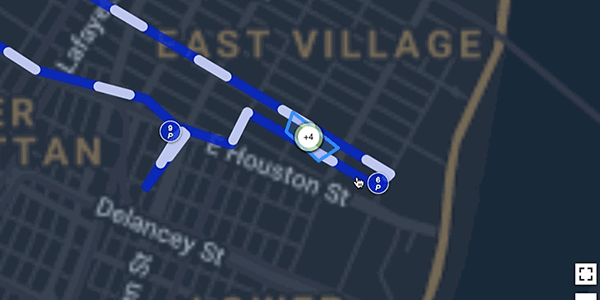 They are in a much better position to take corrective or remedial measures in any eventuality. The client (manager) can also communicate with their on-field delivery personnel using the in-app chatting functionality. They can send important messages to some or all the active delivery personnel. These messages would appear as notifications in the delivery person's app.
How to Manage Seamless Delivery Authentication and Validation?
At the point of exchange or sale, the delivery personnel would record the proof of delivery from their app. Such electronic proof of delivery (ePOD) helps the client track successful and validated deliveries across their network. The delivery person can also record the receiver's/customer's feedback at the time of exchange. This ensures transparency within the system. All this information is instantaneously synced with client's central system.
How does the Omnichannel Enablement Program help with Automated Pickups?
If the client wants to add to their value-proposition by offering quick returns, they can do so by utilizing LogiNext's auto-allocation system. On-demand auto-allocation assigns the pick-up request (returning order) to the delivery personnel closest to the point with idle capacity and bandwidth. Within a single trip, the client can fulfill planned orders and on-demand returns.
What are the Benefits of Last Mile Delivery Optimization in the Omnichannel Model?
Effective last mile optimization helps retailers and ecommerce players to increase their resource utilization and efficiency at the same time. This means that they are better equipped to use their resources such as delivery personnel and vehicles to increase their delivery process.
Hence, they can increase total on-time deliveries fulfilled, reduce the overall distance traveled, optimize the resource capacity utilized, increase transparency and visibility through real-time tracking of last mile movement, authenticate all deliveries, and capture point-of-sale customer feedback. This increases the overall customer satisfaction ratings.
Lower cost of last mile delivery helps them increase their profitability while offering the latest tech-enabled benefits to their customers.
LogiNext has more than 200 enterprise clients across the world, including many retailers and ecommerce players who have reduced overall cost of logistics by around 15% (average), increased on-time deliveries by 23-25% (average), reduced invoicing errors by 60% (average), reduced resource turnaround time by 35-37% (average).
On top of all this, LogiNext's planning and route optimization are entirely cloud-based which means that the go-to-market time (making the last mile optimization system live for their market) for all the clients is extremely low. Moreover, since the technology is cloud-based, all developments and breakthroughs are easily scalable. Each client has access to the best features last mile technology has to offer with a fraction of the total cost of ownership of any other legacy system.
64