When IBM Hosted LogiNext CTO, Manisha Raisinghani For A Masterclass On Starting Up
Disrupting the Logistics market. Scaling a technology company globally from India. A woman CTO. LogiNext has several accolades to its name and as a part of IBM's Masterclass Series, Lata Singh, the Executive Director at IBM hosted Manisha Raisinghani, CTO and co-founder of LogiNext for a candid conversation. The session was attended by more than a hundred managers at IBM and it had little gems for everyone present. Here, we bring you some excerpts from the conversation.
Lata: Welcome, Manisha! Everyone is eagerly waiting to listen to your story. Can you tell us about how the LogiNext journey began?
Manisha: It's a pleasure to be here and talking to all IBMers here. Well, it all started around 2014 when I was working for IBM and my co-founder, Dhruvil Sanghvi was working with Deloitte. We had studied together a few years ago at CMU where we met and had kept in touch over time. Both us worked for clients in the logistics space and were observing how the area was ripe for disruption. Several industries had undergone change with technology coming in but logistics was an area which was resisting change, especially when the consumer trend was changing rapidly with the entry of Uber, Amazon and likes. Both of us felt an urge to do something in space, and we decided to take the plunge and start working on a product. We left our jobs in the US and came back to India and got coding on a product that would help to automate the logistics industry. It was a grand vision for two people to work on but we are very passionate about the idea and well, so far so good!
We have a SaaS product which is currently being used by more than 100 enterprise clients across the globe, we have a team of close to 150 members and have raised $49 million in funding from the likes of Tiger Global, Steadview Capital and Alibaba Group companies. The recent covid outbreak has pushed the digital revolution in the logistics space massively and we're growing at a rapid rate to help our customers serve the end client better.
Lata: Tell us a little bit more about the product.
Manisha: LogiNext Mile is our flagship product and it is used in several industries like Courier and Parcel, QSR Chains, Retail e-commerce and basically by any enterprise which does last-mile delivery. We have a SaaS pricing model which gives a lot of flexibility to clients and the product is quick to deploy. It was difficult to explain the value proposition in our early stages but our timing has been good in hindsight. I like to say that 'SaaS is eating the world' currently!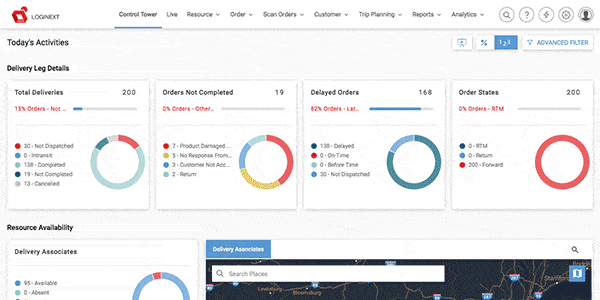 Lata: How did you convince clients to go for SaaS over on-premise?
Manisha: It's very important to listen to users but at the same time, you should have your vision clear. Regarding On-Premise v/s SaaS, we were very clear in our head as to the value proposition we were offering with SaaS. Especially in the space of logistics, where we have decades old and strong incumbents, there was a lot of resistance against SaaS since it is such a large perception shift. We had actually created a full proof list of the benefit of cloud and why companies should opt for it.
In our early days, we had strong partners who'd champion our product. We now have a hybrid-cloud model but initially when we began with AWS, we'd actually have a specialist from Amazon for our client meetings to put more weight to our proposition. This experience taught us the importance of right strategic partners.
And overall, if one wants to compete with the likes of new age technology companies, then it is a no-brainer to go to the cloud. This is where the world has moved and for anyone who wants to stay ahead in the game, moving with the change is the only way.
Lata: I think the key takeaway here is to be clear with the vision and stick to it. Moving from here, it is also crucial to maintain customer relationships. How do you manage churn?
Manisha: In SaaS, there are two types of models- SMB and Enterprise. Initially, we were doing both, serving to all customers. But over time, we realised our product is more suitable for enterprises. Optimising and automating at scale is our mantra and large enterprises are able to take most advantage of our product.
Once we realised our strength, we created playbooks for every department of our team which is tweaked once in a while but this documentation gives a lot of clarity internally as to where is the company heading and how do we want to reach there. The idea is to make processes repeatable.
Lata: Logistics is a very chaotic and unorganised sector, how did you choose this area to startup?
Manisha: Well, for me and Dhruvil both, one thing in common was that in our previous companies (IBM and Deloitte respectively), we were working in the logistics domain. We saw a lot of inefficiencies and we were constantly thinking about things that could be done in a better way. Another personal instance that triggered the idea was that on a special occasion, I had sent a gift for my parents and the courier company somehow misplaced my parcel and did not reach my parents on time. This is when I was really disappointed and thought that it is high time someone did something about inefficiencies in the logistics department!
And this is not a country-specific problem. Be it India, US or any other country, logistics is unorganised and is undergoing through a major revamp.
Lata: There is another interesting question from the audience here. You left a high paying salary to startup, how was it immediately afterwards? Do you ever think, 'Why did I do this?'
Manisha: (laughs) I think I ask that question even now some times! When things are not going well, one often thinks why did I ever choose to do this! For instance, earlier in a job at IBM where I was a senior consultant, there was always someone above you to take all the responsibility when things went awry. I'd like to give a huge kudos to all the managers on the call who do this day in and day out- taking responsibility.
For me, the first six months, the questions were mainly from friends and family asking if I am sure about this decision, this is not going to work, etc. etc. And this is the time, we were figuring out how to start a company in India. Back in 2014, that was a big struggle! But over time, when we saw the product working, a happy client, building a team and everything that comes alongside is such a wonderful feeling that nothing can replace it. This is what keeps me ticking and excited about the future!
Lata: From a startup perspective, how was it to raise funds?
Manisha: When it comes to raising money, it is not easy. Be it friends and family, formal investors, your own money, it comes with a lot of responsibility. We bootstrapped and started from our savings. My apartment in Mumbai was our office for a few months and we first reached out to IAN (Indian Angel Network) when we were looking to raise funds. The most crucial thing that the investors look for at an early stage is the confidence of the founders. Are they willing to give it their all for the next few years? Are they in it for the long haul? Are they okay to go without salaries and hustle! So, it's more about the passion and persistence you show during the first round. After this, it is about the product and traction and the initial team. We've been very open and transparent with our investors since we have immense confidence in the product and the testimonials we've got from our clients. So, yes, raising funds requires a different attitude at different times and it has been an incredible journey.
Lata: Okay, tell us about the competition and sales strategy.
Manisha: Regarding competition, there are two categories. One is the new age tech companies like us and the other are the incumbents in the likes of Oracle and SAP. Earlier, when our product was limited, it was hard to compete with the larger players but over time our product has matured. As a sales strategy, we've been always clear on not entering price wars. We are clear about the value proposition we offer and it comes as a certain price. Some of our local competitors have entered the market and want to compete on lower prices but we've never taken a step in that direction.
Also, with SaaS, it is all about the product value and customer experience. One mantra we keep pushing internally is agility. This is a must to have in these changing market dynamics.
Lata: Growing from India, you quickly went global. What has been your global strategy?
Manisha: Yes. So, we started from India but in a matter of 2-3 years, most of our clients have been global. Currently, 85% of our client base is in the USA, EMEA and APAC. And to go global, one thing we have focused on is to build great content. We have content specialists who understand the customer paint point and publish relevant articles and case studies with good SEO. We have a good organic online presence via which potential clients find us.
It was about 18 months after we started when we got our first inbound lead from Dubai. This was our trigger point and since then, we've focused very heavily on content marketing. This strategy works for SMB but for enterprise, ofcourse, it is a little bit more high-touch sales. We are headquartered in the US and have offices in Dubai, Singapore and Malaysia. This helps to cater to enterprise clients. Post covid, even half a million deals are happening over virtual calls though and this is a welcome change!
Lata: What are the positives you'd take from IBM and some things you'd like to see changing at IBM.
Manisha: (laughs) Well, one thing I'd like to take with me is the strong processes and structure that IBM has. This enables a company to scale very fast and it has been very helpful.
On the other hand, maybe it's just w.r.t my case but one thing I'd point out is that there are people who don't take ownership of things. As a part of the team, everyone should take ownership and be responsible. We really encourage this mantra at LogiNext about taking ownership.
33