Insights From DHL's Focus on Tech And Innovation #LogiNextInsights
This article is a part of the #LogiNextInsights series where we bring to you insights on the secret sauce behind the world's major brands!
Frank Appel, CEO DHL believes it's important to digitize to take DHL's logistics operations to the next level.
DHL plans to spend close to EUR 2 billion for digitization, improving customer and operational experience.

DHL takes on peak season order surge by adding over 100 aircraft for smoother logistics and supply chain.

Deployment of plug-and-play strategy to help maneuver against uncertainty and volatility, and future-proofing hi-tech companies.
Emphasis on Digitization Under "Strategy 2025"
Speaking about DHL's growth strategy, CEO, Frank Appel believes it's important for his company to not reinvent but focus on digitization. He believes digitization would hold the key to being more efficient, effective and creating growth opportunities. 

Leaving the legacy applications behind and modernizing the IT backbone using technology like blockchain and the internet of things would be the key to success.

Close to 95% of efforts are being put into enhancing customer and employee experience, which leads to overall operational success.

The use of data analytics for the prediction of daily volumes for international flight trade lanes and the use of automation and robotics in warehouses to improve logistics efficiency holds key to meeting strategy 2025.
Tackling Online Order Surge:
The study of global connectedness shows the world has become more globalized and connected- with trade bouncing 5% above pre-pandemic level and accelerating fast.
Though there have been hurdles faced by DHL, the company finds globalization still plays an important role than regionalization.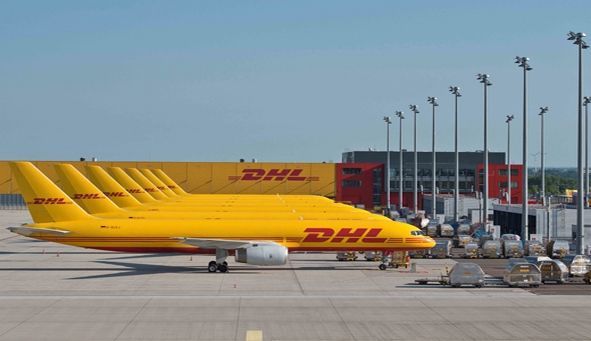 John Pearson, DHL Worldwide Express CEO claims that the company has added 100+ aircraft for ensuring warehouses are always filled with on-demand supplies, which directly results in smoother logistics and supply chain as they have sufficient drivers to get the items delivered.
The Rise of Plug-and-Play Supply Chain Strategy:
Creating a flexible and easy-to-replicate solution that can be rolled out for the entire enterprise has become crucial to mitigating supply chain risks. A SaaS platform is the ideal way for enterprises to meet their logistics and supply chain demands. This helps standardize risk management and helps businesses create a strategy whereby all parties collaborate to reap shared benefits. Marketplace integration will hold the key that will help eliminate barriers faced by legacy systems and their supply chain.
Key Features For Digital Transformation in DHL Express:
Aside from expanding integration with robotic process automation (RPA) into everyday operations, there are plans to implement augmented reality in warehouses to drive operational efficiencies and the use of sensors to offer customers real-time information about the orders using the Internet of Things. Below are the key areas for DHL's digital transformation.
Advanced Quality Control Centre: With a focus on big data and predictive analytics, the company can have better control over logistics. Control of the goods and shipment movement, identification of issues with routing, and leveraging ML and AI to factor in unforeseen situations to ensure timely delivery. 
Automatic Flyer Sorting With DHLBot: The use of robotics to automate the sorting process, offering 99% accuracy, while minimizing human interaction for faster and more efficient sorting of parcels.
Autonomous Mobile Robots: To completely automate the logistics operation, the use of mobile robots for last mile deliveries holds the key. These mobile robots are equipped with AI-powered sensors to avoid obstacles to reach their destination.
On-Demand Delivery (ODD) Online Portal: Adding value services for customer satisfaction, this portal will allow customers to schedule flexible contactless deliveries. Furthermore, the customer can choose from six delivery options if they would not be able to receive the shipment on the delivery date.
QR Code Labelers For Order Returns: Since the return logistics market is gaining momentum, DHL offers customers an online QR code for order returns. This removes the need to have a physical airwaybill and promotes contactless deliveries.
Route Optimization For Faster Deliveries: Promoting sustainable deliveries, DHL uses route planning and optimization to improve the efficiency and productivity of its supply chain. This will help shorten delivery time and improve customer experience on deliveries.
Technology developments and digitization of supply chain management are here to stay and help with the rapid development of your business to meet the ever-growing demands. LogiNext is the #1 transportation automation platform to help your business meet these demands. We offer real-time visibility of orders, help with route planning and optimization for sustainable deliveries, and handle order returns with a single click, among several marketplace integrations to ensure seamless logistics and supply chain operations.
Stay tuned to read more insights on companies that tend to retail, eCommerce, F&B, transportation, CEP, and more.
Clear your queries by talking with an expert by clicking the red button below.
33