Gartner's Hype Cycle lists LogiNext as a sample vendor for Last-Mile Delivery Solutions
What is Gartner's Hype Cycle?
If you're in the business of logistics, Gartner's reports would most probably be a point of consideration when you're looking for technology solutions to implement at your firm. Gartner's Hype Cycle is a graphical depiction of a common pattern that arises with each new technology or other innovation. And the Logistics management space is a big complex industry which is being taken over by digitization in the last decade.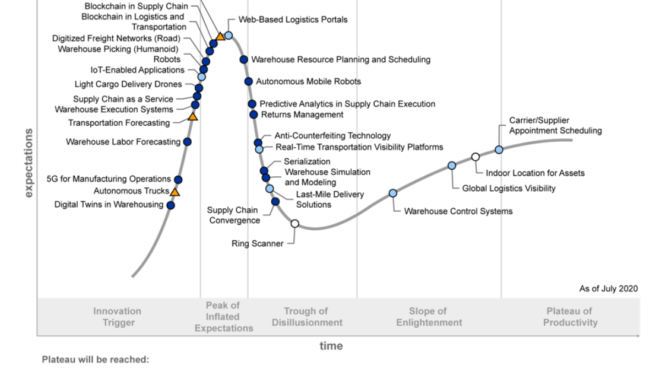 In this Hype Cycle, last-mile delivery solutions are almost down the 'trough of disillusionment' and about to climb the 'slope of enlightenment' in the next few years. The recent pandemic has hastened the entire cycle and if you're in the business of last-mile delivery, optimizing your logistics and deliveries is of utmost importance. In this report, Gartner mentions LogiNext as a sample vendor to help you organize your last-mile logistics and the global research firm has given a benefit rating of 'high' for these solutions.Here's the article from the report regarding last mile Delivery solutions where LogiNext is a sample vendor.
Analysis By: Bart De Muynck
Definition: Last-mile delivery solutions enable the execution of the last mile, providing real-time communication between routing applications and drivers/vehicles to track their activities and locations and, when necessary, to reroute them in transit while on the go. These solutions are the next generation of delivery solutions, and mainly focused on last-mile deliveries to businesses and consumers, adding additional capabilities such as customer experience management.
Position and Adoption Speed Justification: Last-mile delivery solutions are an evolution of the more traditional dynamic and even batch-oriented fleet routing and scheduling (FR&S) grown due to the huge increase in e-commerce and last-mile deliveries. Whereas traditional routing solutions focused primarily on over-the-road fleets and movements for first mile, middle mile and last-mile to businesses, these new last-mile delivery solutions mainly focus on deliveries to consumer homes. Rudimentary real-time routing solutions are dispatcher-centric, having limited communication with drivers. These more robust last-mile delivery solutions are emerging that can automatically and proactively adapt to unforeseen events.
For example, as traffic-monitoring solutions emerge and become pervasive, routing systems could receive notifications of traffic congestion that will delay drivers and may warrant rerouting. The system could dynamically recalculate the route and communicate the new route to drivers in real time. The goal is not only to make the fleets more efficient, but also to communicate updated ETAs with the consumer who is increasingly focused on the delivery experience when selecting an e-commerce or online retail vendor. It seems simple to just calculate new arrival times by indexing schedules based on the time of the delay (e.g., if one hour late leaving the previous stop, then just add one hour to the anticipated arrival time). However, this is overly simplistic, and leading vendors are working on algorithms that will recalculate the new arrival time based on other factors, such as time of day and current traffic patterns.
As businesses have become more dynamic and customers more demanding, companies need to balance the trade-offs between optimal and feasible routes that consider changes throughout the day as variables of change continue to increase and click to door times continue to decrease. As consumerism takes hold, meeting on-time appointment windows for delivery to home or office is becoming not only more important, but more plentiful and difficult. Consumers are seeking flexibility in delivery slots and are increasingly prone to changing the date and time of delivery according to their changing needs. E-commerce for certain products (e.g., grocery, meals, electronics and furniture) continues to grow rapidly, and companies' ability to deliver to consumer time frames is challenged, adding stress to the capabilities of traditional solutions to plan (and deliver) within narrower time frames. Missed appointments require more dynamic updating of both routes and notification to customers of changed appointments. The solution also needs to manage the customer experience providing insights into the whole delivery cycle and use these insights to improve future deliveries.
Last-mile delivery solutions are increasing. These solutions are adaptations of traditional routing and scheduling, wherein a route could be replanned and a dispatcher would control the process. Many of these solutions use AI and machine learning to speed up the optimization process and predict occurrences and impacts based on real-time information. Support for pieces of this technology, such as automated vehicle locating, is becoming more mature and commonplace.
User Advice: Not all users will need last-mile delivery solutions, and traditional vehicle routing and scheduling solutions will suffice. Users that have high levels of change over the course of a delivery horizon or have a large focus on last-mile delivery to the consumer, are the best candidates for last- mile delivery solutions. Users should define their specific use cases before investigating solutions to ensure the solutions they consider fit the needs of their operations.
Business Impact: Last-mile delivery solutions will not only provide benefits to e-commerce companies and other shippers focused on last mile but can also add incremental benefits to mature users of routing and scheduling, further reducing costs and improving customer service in dynamic environments. Less mature users and more traditional industries that do not focus on the last mile should start with traditional vehicle routing and scheduling tools that are mature and proven.
Benefit Rating: High
Market Penetration: 5% to 20% of target audience
Maturity: Adolescent
Check out the LogiNext Mile Platform.
45