Drones are almost at your doorstep with last mile deliveries!
Drones are a wonderful addition to the world of logistics for numerous reasons. And why not? They're fast, cheap, and environmentally friendly alternatives to many forms of transportation. The future of last-mile deliveries revolves around introducing drones into the supply chain to save time, costs, and resources.
Especially for small packages, it makes more sense to use a drone for delivery which automates the delivery process and minimizes the costs incurred by transporting goods over short distances. Paired with an efficient transportation automation system, last-mile delivery using drones could potentially benefit companies and their consumers alike.
A brief insight into the drone delivery scenario
Drones have been a matter of debate since 1935 when the first commercial drone was made in an airforce base for aerial target practice (here's a not-so-short history of UAVs). Yet, things picked up and handy, portable, and commercial drones became more accessible to consumers worldwide. While some used drones to capture aerial shots, some used drones to send messages across short distances. As the technology and range improved, drones became a focus for the delivery of goods. 
In December 2016, Amazon staged its first commercial drone delivery to a customer in Cambridge, UK, within 13 minutes of ordering an item online. Due to the legal implications in various countries like America, China, India, Japan, and others, drone delivery was initially a security threat. However, in October 2019, Wing was the first company to begin commercial drone delivery services to residents in Virginia publicly. On the 18th of October that year, 3 drones carrying chocolates, a winter vest and cough medicine were dispatched for delivery.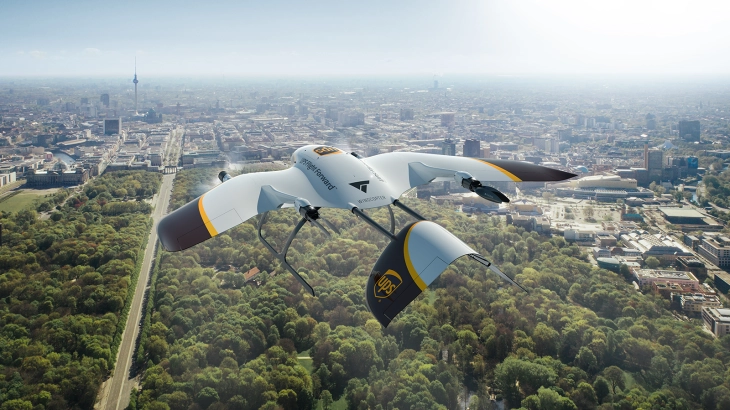 In recent times, companies like Amazon Prime Air, Fehr & Peers, Zipline, and Wing have taken drone deliveries towards becoming the new normal. In fact, Drone delivery Canada is a leading company where the rules in Canada are ideal for furthering the pursuit of fast, unmanned deliveries to customers. With the easing of restrictions in various places, drones are slowly being introduced into the supply chain, where its military applications and camera angles are not the only concern.
Drone deliveries and government regulations
Although numerous policies exist against the use of unmanned delivery drones across certain distances, in various counties, the policies are slowly being reformed to suit the growing demand of FMCG industries, e-commerce companies and local retailers. Drones could save costs, curb delivery time, and boost supply chains' productivity everywhere in the world. In fact, customers are reported to prefer a drone to deliver their products to their doorstep in the event of cases where human errors result in the loss of packages, delays, rejected orders, among other issues.
While there are numerous hurdles in implementing this futuristic logistical operation for businesses, drones offer an optimal solution for many challenges faced with last-mile delivery. Drones can be used as a practical transportation automation system that will transform the future of deliveries. By eliminating the need for additional resources, drones will save immense time in streamlining the supply chain. Additionally, drones are easier to operate and can be automated to reach and return back to a destination as soon as an order is shipped.
Let's find out more about the introduction of drone deliveries.
Why are drones a great way to fulfill last-mile deliveries?
Last-mile delivery refers to the final stage of a product's journey from a warehouse to the customer's doorstep. Making up to 28% of the product's transportation costs, last-mile delivery is the least efficient part of any logistics operation. Additionally, if there's a lot of traffic congestion in urban regions, inaccurate contact information, or hard-to-reach locations, the entire delivery process is delayed.
Every business's transportation sector is searching for an alternative that can save time and costs on last-mile delivery hurdles. With high-end logistics technology, route optimization software, and GPS tracking systems, companies can easily manage large transportation fleets.
Businesses are still trying different delivery methods to curb their expenses and offer timely last-mile delivery solutions. Among the challenges that arise are high fuel consumption and air congestion due to the traffic pollution in cities. This is where drones come in as an eco-friendly alternative that is easier to deploy and cheaper to manage.
When will drone deliveries become mainstream?
Depending on the drone's size and requirements of last-mile delivery, an efficient transportation management system can reinvent the future of deliveries. Various initiatives undertaken by government organizations in China aim to accelerate drone logistics & transportation automation systems with a fresh perspective. 
For example, The Civil Aviation Administration of China (CAAC) allowed two companies, SF Holding and JD.com, to begin sending packages via drones to some of China's rural areas. Amazon's Prime Air is a service introduced to deliver packages safely to customers in under 30 minutes, using unmanned drones for packages up to five pounds in weight. The first Prime Air delivery was on December 7th, 2016, in America. In 2020, Prime Air was approved to use drones for last-mile deliveries by the Federal Aviation Administration (FAA). This is a massive step in the right direction for logistics operations worldwide. After it was granted permission by the aviation authority, Google has already begun a public drone delivery service in Australia. 
Last-mile delivery will get automated with the inclusion of drones, which is a hopeful indicator for the future of deliveries. Drones can save time by offering quick deliveries and boosting the supply chain by moving products faster. Through a transportation automation system, businesses can save valuable time and costs in fulfilling deliveries of goods. The enormous potential of last-mile delivery using drones has given rise to a new kind of sustainable logistics technology. By improving delivery timing and saving costs, companies can build an eco-friendly last-mile delivery solution.
The rise in transportation automation systems
Between 2020-2025, the drone market is estimated to register a CAGR at 13.8% increase as various businesses and governments adopt a transportation management system with the latest logistics technology involving drone deliveries. 
It is estimated that, with the rise of e-commerce retail and door-to-door deliveries, drone delivery in 2030 will become an alternative for small package deliveries in numerous industries and trade. For commercial use, the drone market is expected to grow from 22.5 billion in 2020 to 42.8 billion by 2025. 
The increased use of Unmanned Aerial Vehicles (UAV) for industrial and commercial applications is also a hopeful indicator. The last-mile delivery using drones is pushing for the growth of drone manufacturing worldwide.
The use of automation technology for various industrial applications has reduced the burden on people and the planet. With advanced logistics management and transportation automation systems, companies can scale up and meet the demands of the 21st century with high-performance logistics technology.
LogiNext is a global partner in last-mile delivery. The future of deliveries is growing into a demand for a robust logistics framework that serves industries and customers with the best automation technology in the market.
15