A One-Stop Delivery Solution For eCommerce Growth & Scale
As the number of eCommerce businesses is on the rise, one might believe these businesses have everything sorted related to their logistics process. However, the reality is that close to 51% of eCommerce and retail business owners were looking to invest heavily in their logistics and supply chain. Having a great customer experience when shopping is the key, however, getting the shipment completed within the shortest duration holds the key to business growth. Finding the right delivery solution for eCommerce can be the make or break for the business's future.
What does eCommerce Shipment mean?
eCommerce Shipment consists of processes right from picking and packing the product ordered from the warehouse, adding airway bills, and even managing returns. The process might seem simple; however, a delivery management solution holds the key. It will not only help with the complexities of moving different-sized products to different regions but also with delivery speed and delivery options that one needs to get their items delivered. 
How can a Delivery Solution for eCommerce Help with Shipment Strategies?
Post the pandemic, businesses have started with multiple ways by which shipment of their orders takes place. While some strategies work well for some, doesn't necessarily mean they might do well for others. Some of the most used delivery strategies for eCommerce businesses include-
Free Shipping- Whenever we go online, one of the most used techniques to attract customers is offering them free shipping. Customers nowadays expect all their deliveries to be delivered free of charge. To ensure there's no drop in sales and the payment to carriers doesn't hamper your logistics costs, a reliable delivery solution for eCommerce is a must. The main benefits of free shipping include meeting customer expectations and also leading to more customer conversion which would help in business scale and growth.

Same-day Delivery- As many of you might have guessed, getting the orders on the same day as the placement of the order. Having to serve your customers on the same day requires seamless logistics operations in place to meet customer demands. The main benefit of same-day deliveries is they will help your business stand out from the competition, leading to increased revenue. Another advantage is due to higher conversion rates, the business revenue will start to increase.
Store Pick-up- These types of shipment strategies are beneficial for stores that have brick-and-mortar stores. Some store might not have their carrier fleet, and this is the best way to get the customer to buy from you at the earliest. Once the payment is completed, the customer will get a message on the best time that suits them to pick up the delivery from the store itself. So, no more queues for placing the order and waiting long queues for order payment.
Lightning Deals- E-commerce stores offer lightning deals that would help the customer get the best deals on items at the fastest time possible. These deals are adjusted in a manner so they can be booked at the earliest and delivered to the customer at the shortest turnaround. Business must have their local warehouses to ensure a sufficient supply of items is available to avoid delivery hiccups.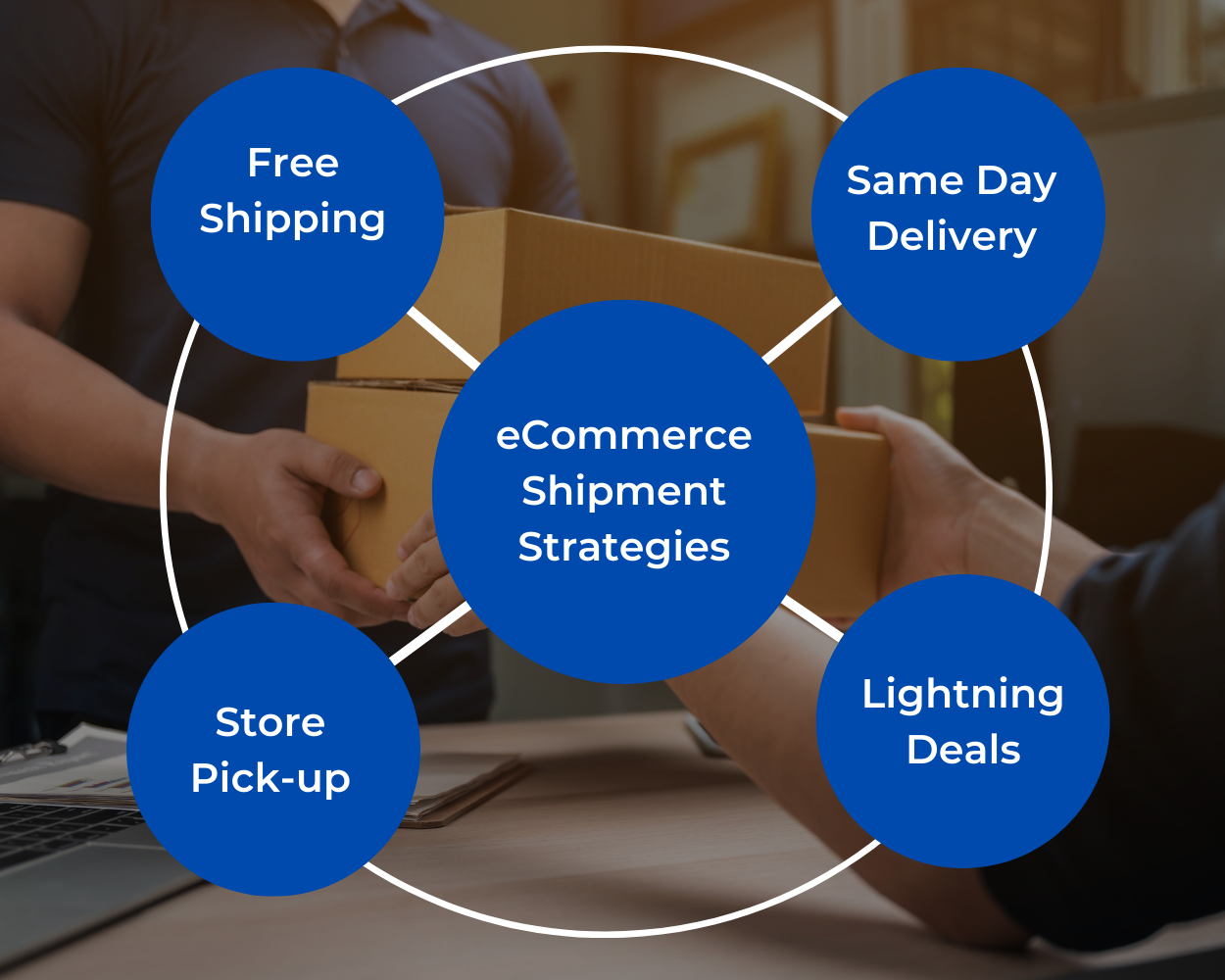 Tracking eCommerce Shipments and Returns are Crucial for Business Development:
In modern eCommerce, a positive customer experience ranges from placement of the order to get it delivered — and, if necessary, returns. Some of the key components that delivery solutions for eCommerce can help with include-
Integration with an Order Management System- Having an order management system (OMS) will help with receiving, processing, and order fulfillment. This will help keep the inventory stocked, reducing inventory issues and avoiding delivery delays. The order management system will additionally help to take informed decisions, especially when there is a sudden surge in orders during festivals or seasonal sales.
3d Packing Optimization- While an OMS will help keep your inventory fully stocked and optimized, any organization that deals with delivery need to optimize space utilization in their delivery vehicle. With the 3d package optimizing feature, operational managers will get the best idea of how to load the carrier with the parcel out for delivery. This will help with maximum fleet utilization and the completion of more orders within a trip.
Real-time Tracking with Notifications- No customer wants to be kept in the dark regarding their order status. A delivery solution for eCommerce should have real-time tracking implemented to showcase every stage of order fulfillment. Keeping the customer informed with notifications on each delivery stage and real-time ETAs will ensure maximum customer satisfaction.
Proof of Delivery- Once the delivery associate reaches the address, collecting proof of delivery is of utmost importance. This will not only help create a digital record that the customer has received the order but also showcases the time of delivery by the delivery associate. The electronic proof of delivery (ePod) can use capturing eSign, photos, or a verification code that can be added to showcase delivery completion. 
Reverse Logistics- Not all the orders meet customer expectations, and they have to get them returned. Customer returns are one of the major pain points for any eCommerce business. With an easy return on a single-click option, LogiNext allows one to easily tag a delivery associate to get the delivery item returned to a delivery associate within the vicinity based on the skillsets to avoid multiple attempts on returns.
Reports and Analytics- A single dashboard that can keep track of daily, monthly, weekly, and yearly data will ensure to take corrective action. With LogiNext's streamlined reports and analytics section, it becomes easier for the operational manager to sort the data and make changes for the eCommerce deliveries that will help improve overall operational efficiency.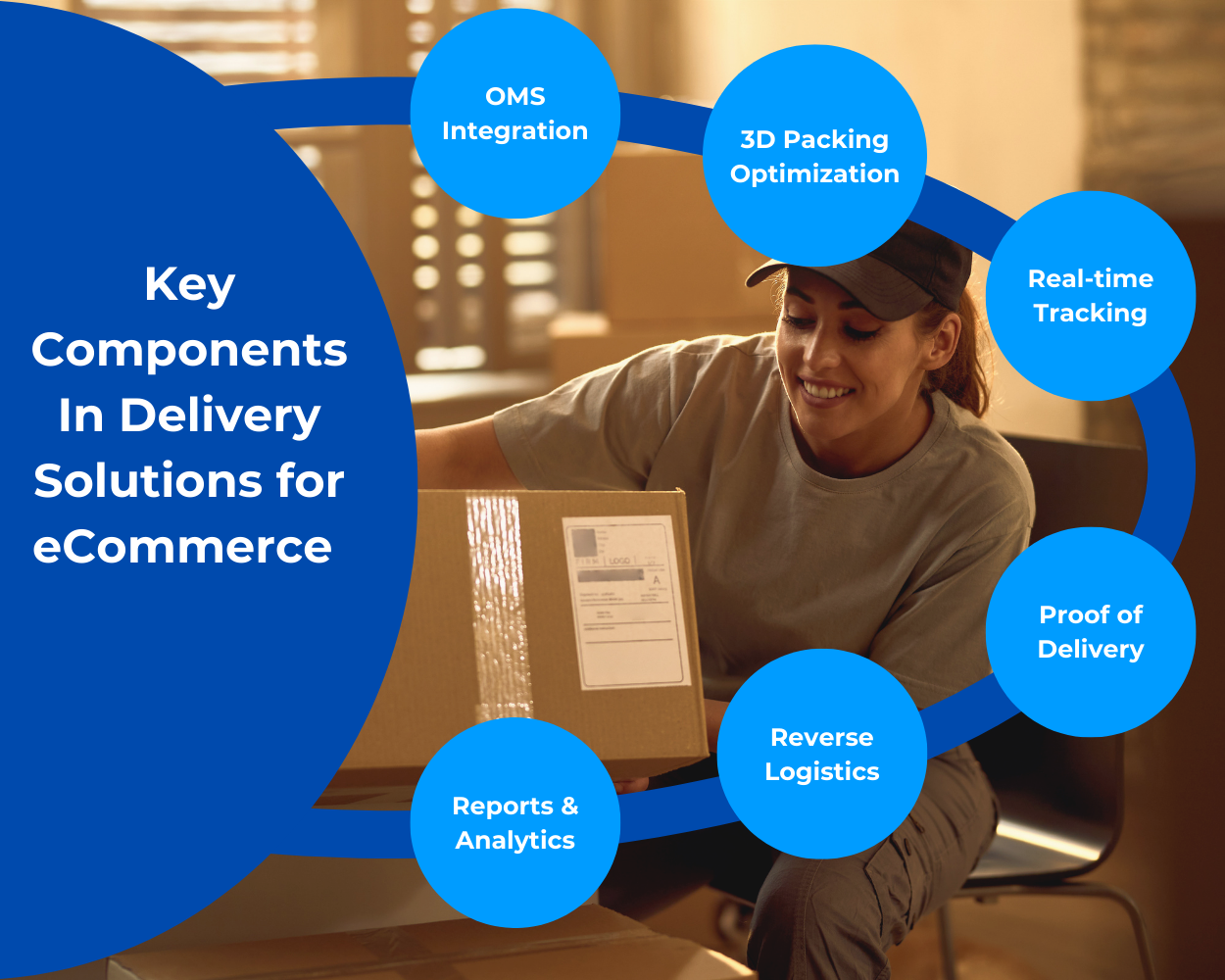 The Perfect Delivery Solution for eCommerce:
Customers are the heart of any eCommerce business. The first step to growing and scaling your business is understanding customer expectations. Ensure that your deliveries are completed within a scheduled delivery time. Businesses should look forward to integrating with delivery solutions to help track, measure, and grow their business. As the number of deliveries has increased, businesses have also learned to partner with third-party carriers to get shipment delivery at reasonable rates. LogiNext offers all the above features to help your business grow quickly and hassle-free. Connect with an expert to help you with the most reliable delivery solution for eCommerce.

Click on the red button below to speak with an expert.
13